Admission Rates
Adults - $7.75
Seniors (ages 65 and over) - $6.75
Children (ages 3 to 12) - $6.25
Children 2 and under - Free
Friends of Topeka Zoo (FOTZ) members -  Free with membership card and photo ID
Parking is free
No pets allowed
Strollers and Wagons
Strollers ($2.50), wagons/wheelchairs ($5.00) and ECV ($20.00) may be rented at the front gate.
Rentals cannot be reserved.
Hours of Operation
9 a.m. to 5 p.m.
Open daily
No admission after 4:30 p.m.
Closed Christmas Day and New Year's Day.
Location
635 SW Gage Blvd.
Topeka, KS 66606
Service Animals
Fully-trained service animals are welcome at the Topeka Zoo.
Animals whose sole function is to provide comfort or emotional support and therapy dogs that provide a service to others do not qualify as service animals under the ADA.
View our full policy regarding service animals at the zoo, here.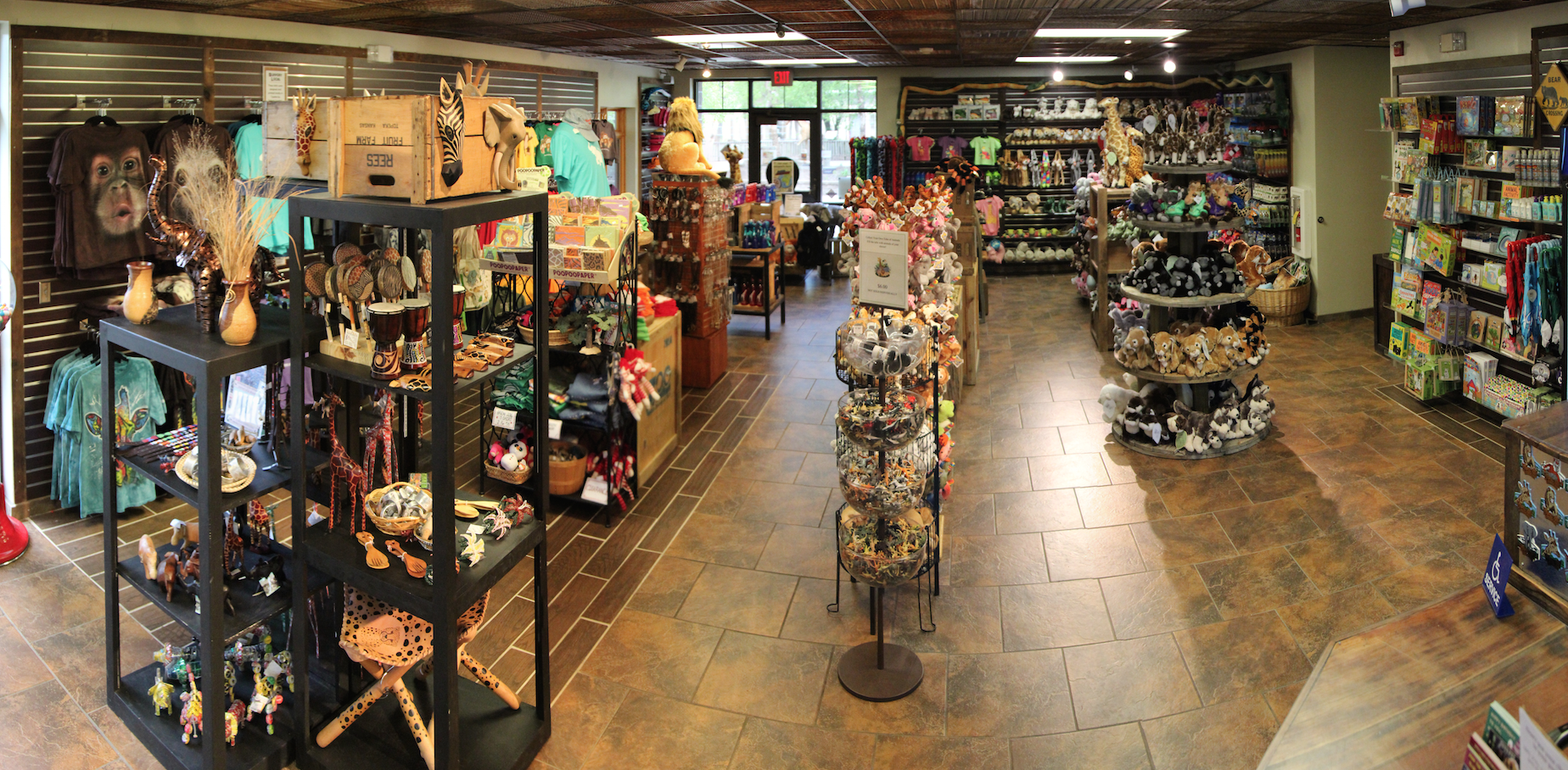 Leopard Spot Gift Shop
The Leopard Spot Gift Shop, located inside the Topeka Zoo, is open from 9 a.m. to 5 p.m. every day the Zoo is open.
Friends of the Topeka Zoo members receive a 10% discount on all in-store gift shop purchases. Leopard Spot gift cards are available also.
Grazer's Café
Grazer's Café is open seasonally. Fountain drinks and the full menu are available for purchase. There are several picnic tables in the concessions area that showcase a nice view of our giraffe family.
Soft drinks and snacks are also available for purchase at the Leopard Spot Gift Shop and vending machines are located around the zoo.

Catering is available for groups. Special menus and box lunches may be arranged for birthday parties, luncheon meetings or other group events. Contact the cafe at 785.368.0172 to discuss options.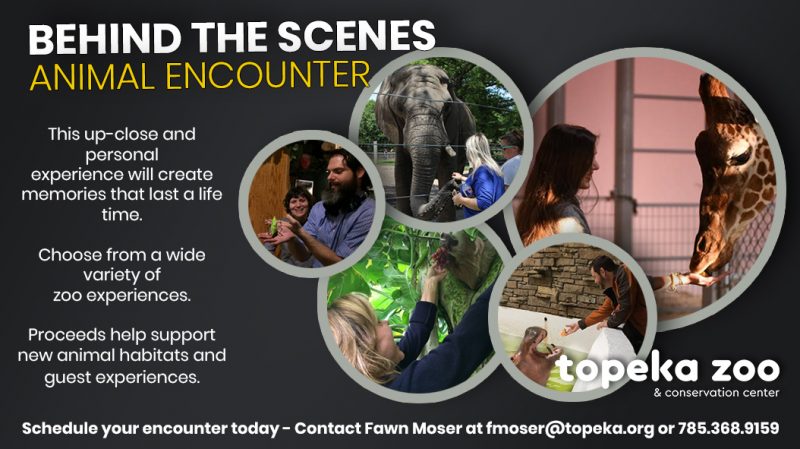 Encounter Options:
There are a variety of animals and locations to choose from. An encounter really is determined by the animal but usually last 20-30 minutes. Your able to get closer to an animal, meet the animal care staff, ask questions and depending on which one sometimes there is that chance you have the opportunity to feed an animal or touch them. For example, if you are interested in meeting one of the sloths, there is the opportunity to feed one, during your time with us. Admission is included in your encounter and your welcome to bring a guest or two. We keep the number small about 4-6 people. The encounter funds go directly toward the funding initiatives for the current master plan project being built, which now is Kay's Garden.
Sloth encounters can either be through the Foley fan club (2018 offspring is Foley) or if you're not interested in all the stuff involved with that we can just set up the experience.
Most encounters occur late morning or midafternoon.
Must schedule 1 to 2 weeks in advance.
$100
otter
pronghorn
mountain lion
Black Bear (late spring, summer and fall season)
hippo
feed 30 lorikeets in the back of rainforest (off- season)—they will be outside at this time
Bug Zoo
ostrich
porcupine (summer season)
giraffe
$200
elephant
lion
painted dog
$250
sloth - http://topekazoo.org/support/giving/
tiger
Schedule your encounter today - Contact Fawn Moser at fmoser@topeka.org or 785.368.9159