The Topeka Zoo offered a variety of educational programs both virtually and in-person. Bring the excitement of the Zoo into your class, with so many hands on activities and animal guests there is always something new and engaging to learn during our classes.
Scroll through the variety of programs offered to see what best fits you and your class and students.
IN-PERSON PROGRAMS
Topeka Zoo offers a variety of educational programs to complement your classroom curriculum. Programs are offered in one- or two-hour blocks.
IN-PERSON CLASS PRICING
One-Hour Programs hosted at the Zoo - $90
Two-Hour Programs (zoo only) - $175 flat fee for groups of 29 or less; $6/person for groups of 30 or more.
Any additional consecutive programs after the first hour are $45 for a half hour and $90 for an hour. You may not book a program for less than an hour.
There is an additional $45 fee for weekend and evening (after 5:00pm) programs.
---
VIRTUAL PROGRAMS
Join the Topeka Zoo for virtual learning opportunities! Scroll down this page to "Available Programs" and pick out a theme you'd like. We can modify it to your classroom, time limits, and needs. Don't see a theme you're looking for? We can create something new for you too! All lessons will be filmed live with audiences.
VIRTUAL CLASS OPTIONS & PRICING
30-minute class: Meet three Topeka Zoo education animals for a 25-minute lesson and 5 minutes for audience questions. Class can be NGSS curriculum-focused. Cost: $70
60-minute class: Meet five Topeka Zoo education animals for a 50-minute live lesson and 10 minutes for audience questions. Class can be NGSS curriculum-focused. Cost: $115
Maximum participation is 100 participants. All virtual programs must be scheduled between 8:00am-5:00pm Monday-Friday.
---
BRING THE ZOO TO YOU
Let us transform your classroom, library, retirement center, or organization meeting into an exotic encounter with our Zoo2U program. Zoo2U programs include a presentation, educational games, interaction with a live animal, and discussions related to a specific animal or zoo topic.
Our animal visitors can include:
A variety of invertebrates–including tarantulas, scorpions, millipedes, and more!
A variety of reptiles and amphibians–including several frogs, lizards, snakes, turtles, and tortoises!
Several small mammals–such as a skunk, an opossum, an armadillo, and a hedgehog! 
Birds of prey–including a screech owl, turkey vulture, and hawk!
PRICING:
Zoo2U is $130 for an hour-long program. Any additional consecutive programs after the first hour are $45 for a half hour and $90 for an hour. You may not book a program for less than an hour.
Travel outside of the Topeka City limits will incur an additional charge for gas, travel, and staff time.
There is an additional $45 fee for weekend and evening (after 5:00pm) programs.
To schedule a zoo program, contact our Education Department at 785-368-9137 or Education@Topekazoo.org. 
DISCOVERY HOMESCHOOL PROGRAM
This program is designed to provide an in-depth and personal encounter with science concepts, vocabulary, and interactions with the zoo. Class will include a presentation, at least one live animal, and a craft/activity. These classes are adapted to all grade levels and open to the general public.
2022-2023 SCHOOL YEAR DATES AND THEMES: 
Yearly Theme: A Day at the Movies!
Description: Join us as we dive into the world of movie genres! Every month, we will be learning about animals that have similar characteristics to each genre. "Fantasy" will highlight animals who look like they're from another world. "Mystery" will have you don your detective's hat to learn about animals we don't know much about. "Musical" will be full of sound and song from the animal kingdom! Grab your tickets for these blockbuster events!
Dates and Themes:
September 14th: Fantasy
October 12th: Thriller
November 9th: Historical
December 14th: Mystery
January 11th: Comedy
February 8th: Romance
March 8th: Family
April 12th: Musical
May 10th: Adventure
TIME: 10:00-11:30am 
LOCATION: Gary K. Clarke Education Classroom; Activity may be outside so please dress appropriately. 
REGISTRATION: Pre-registration required. Maximum capacity of 50 people.
https://store.topekazoo.org/#/Education
Registration and payment are required for all children ages 3-17. At least one parent, guardian, or caretaker is required to attend per family and gets into the class for free. Limit to one free adult per family unit. Children 2 and under are free and do not require pre-registration.
COST: FOTZ Members: $6.00*/student/class; Non-members: $8.00*/student/class (*Admission to the zoo not included in class price and is required for all people in your party; tax will be added on top of class fees.)
Preschool Zoo Time
The Preschool Classes are canceled for the time being and will not begin for the 2021-2022 school year. Please contact 785-368-9137 with questions.
A special program designed for preschool-age children ages 2-5. The program includes a story, live animal encounter, and craft.
DATES: First Friday of the month, March-November
TIME: 10:30-11:00 a.m.
LOCATION: Gary K. Clarke Education Center
COST: $2 per child. Requires paid Zoo admission
Parents are admitted free to Preschool Zoo Time with paid Zoo admission.
Registration is not required.
TEACHER DEVELOPMENT CLASSES
Teacher Professional Development Opportunity
National Geographic Education Certification: Phase 1 Workshop
Join the Topeka Zoo and Conservation Center as they offer a unique professional development opportunity partnering with National Geographic! The Topeka Zoo is hosting a workshop for area educators to complete Phase 1 of National Geographic's Educator Certification Program. Upon completion of the Phase 1 in-person, educators are then invited to complete Phases 2 and 3 online.
By completing this Educator Certification Program, you gain access to National Geographic's online educator community to network and share resources with thousands of educators around the world! Only through certification do you have the opportunity to apply to the Grosvenor Teacher Fellowship, a life-changing professional development opportunity involving a 10-14 day expedition. Finally, you will be part of the National Geographic network and may be asked to partner with them for other opportunities! Your administrators will be notified of your completion of the Educator Certification Program.
The workshop will be led by the Topeka Zoo's Education Specialist, Rachael Rost. Rachael is a 2017 Grosvenor Teacher Fellow, a certified National Geographic facilitator, and a member of National Geographic's Kansas Advisory Council. She has been teaching at the zoo for six years.
Date and Time: Winter 2020 at the Topeka Zoo (We are doing the exact same workshop twice this day--once in the morning and again in the afternoon. You can sign up for either session.) DATE TBD.
Cost: Free! Includes admission into the zoo as well.
Who is this for: PreK-12 formal and informal educators, pre-service teachers, paraprofessionals, administrators, and more!
Questions? Contact Rachael at 785-368-9137 or rrost@topekazoo.org. Also visit the National Geographic Educator Certification Program website for Frequently Asked Questions. Pre-registration is required. 
Don't see what you are looking for? No problem! Our Education Department can adapt your desired curriculum into a program.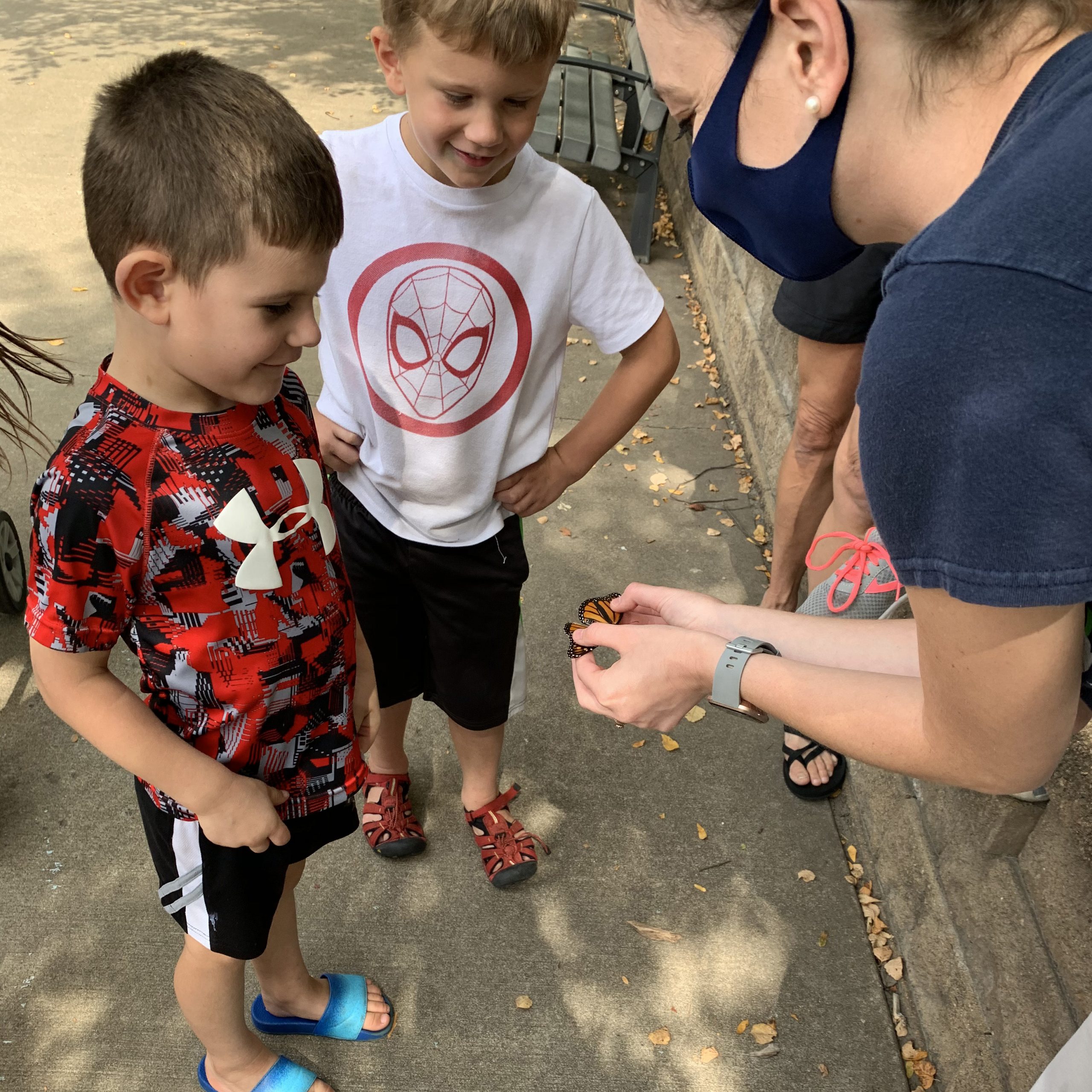 Monarch Butterfly Education & Tagging Class
Monarch butterfly populations have declined by close to 90% in the last few decades. These beautiful insects migrate through Kansas during the last two weeks of September and we are waiting for them! Join to Topeka Zoo as we offer in-person education classes on the monarchs.
Scout Workshops
Earn a badge at the Topeka Zoo! Join in one of our workshops to receive your scout badge, available for both girl and boy scouts, you can learn a variety of skills while having fun at the Zoo!