Chief Justice Kay McFarland
Chief Justice McFarland's life and accomplishments created a legacy. Her story is told at our Kay McFarland Japanese Garden to inspire future generations of women to aspire the same way she did.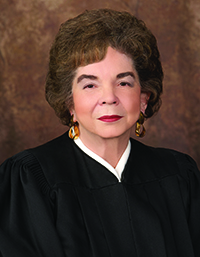 Kansas Supreme Court Chief Justice Kay McFarland's dream was to leave a legacy gift of a world class Japanese garden in the capitol city of the state she served. She established a living trust to help fund her dream of a world class Japanese garden. Her garden is a destination filled with serenity and breath-taking views, offering inspiration, accommodate contemplation and serve as a venue for life changing experiences.
Kay's interests and talents were many and varied. She was a world class show ring rider of Tennessee Walking horses, including the award winning Midnight Secret, and bred champion Irish wolfhounds from stock brought directly from Ireland. She was also an expert seamstress and quilter.
Kay traveled the world. Her father's work as an educational consultant and motivational speaker for the Reader's Digest and General Motors provided early opportunities for domestic and foreign travel. Her love of travel continued throughout her life, including three African safaris with former Topeka zoo director, Gary Clarke.
She was the consummate storyteller. Kay's travels, background, experiences, and knowledge provided her with much material, but it was her ability to find the humor in almost any situation and her keen observations regarding human nature that made her stories unique. Her childhood years spent in Coffeyville and visiting relatives in Caney, Kansas, were as frequently the subjects of her stories as were her travels to exotic locations throughout the world. Simply put, she enjoyed people and their situations wherever she found them.