Conservation In Action
Through Topeka Zoo and Conservation Center, patrons see tangible conservation efforts. The research supported by Topeka Zoo enables zoos all over the world to collaborate and help further the mission of conservation.
Topeka Zoo enriches the community through wildlife conservation and education. The zoo's Conservation Committee helps to guide the organization towards practicing, promoting, and supporting conservation at home and around the globe. Our conservation work takes many forms including hands-on conservation work in the field by zoo staff, funding efforts of organizations, making our own facilities greener, and using our animal collection to improve conditions for endangered animals through research in cooperation with other zoos.
AZA Managed Programs
The mission of an AZA Species Survival Plan® (SSP) Program is to cooperatively manage specific species within AZA-accredited zoos and aquariums, certified related facilities, and sustainability partners. In order to be an SSP, a population must meet requirements related to genetic diversity, population number, and the number of institutions that have that species at their facility.
Each SSP maintains a studbook that is maintained by a studbook keeper. This document provides information about the lineage, reproductive history, and transfers of each individual animal in a species population.
Topeka Zoo and Conservation Center participates in several SSPs including:
African Crested Porcupine
African Lion
African Elephant
Mexican Red-kneed Tarantula
Asian Elephant
Mountain Lion
Bali Mynah
Nicobar Pigeon
Black and White Ruffed Lemur
North American River Otter
Black Crake
Red-and-yellow Barbet
Black-footed Ferret
Red-capped Cardinal
Blue-crowned Motmot
Reticulated Giraffe
Blue-grey Tanager
River Hippopotamus
Bobcat
Bornean Orangutan
Scarlet Ibis
Crested Wood Partridge
African Painted Dog
Patas Monkey
Silver-beaked Tanager
Golden Lion Tamarin
Southern Three-banded Armadillo
Greater Malayan Chevrotain
Sumatran Tiger
Grey Crowned Crane
Troupial
Hoffman's Two-toed Sloth
Trumpeter Swan
Lesser Madagascar Hedgehog Tenrec
Violaceous Turaco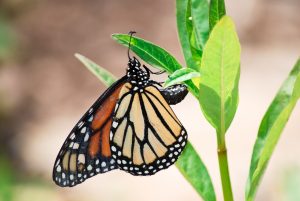 Monarch Butterfly Citizen Science at Zoo
Monarch Conservation
The loss of habitat available to monarchs has been measured at approximately 6,000 acres per day across the U.S. or 2.2 million acres each year.
Topeka Zoo is leading the charge to provide more habitat for monarch butterflies in the form of butterfly gardens on and off grounds. Topeka Zoo currently has 14 butterfly beds, covering 6,383 square feet of space, offering monarchs milkweed as their larval plants and flowering plants for nectar to feed adults.  The zoo is also currently pursuing off-grounds sites to establish even larger monarch-friendly beds in the community.
We are also coordinating the efforts of accredited zoos across Kansas. Education is key to raising the level of awareness about the challenges monarchs face, and to inspiring citizens across Kansas and throughout monarch migration routes to plant more monarch-friendly larval and nectar plants (milkweed and flowering plants) to provide more habitat for monarchs.
YOU CAN HELP!
For the eighth year in a row, the Kansas Museum of History and Topeka Zoo have teamed up for the monarch butterfly migration! These beautiful insects migrate through Kansas during the last two weeks of September and we will be waiting for them! We want you to join us for FREE monarch tagging classes that are open to the public.
These classes are held at the Kansas Museum of History and are fun for the whole family! Each class will be from 5:30pm-7:30pm. The first portion is an indoor, interactive education program where audiences learn about monarch butterflies, their importance, and how to catch them. The second part is outdoors in the museum's prairie, where participants will get nets to catch, tag, and release butterflies! The zoo will provide at least one butterfly net for each family to borrow; you're welcome to bring a net too if you have one.
The dates are below:
Tuesday, September 20th, 2022
Friday, September 23rd, 2022
Tuesday, September 27th, 2022
Pre-registration required for all people attending the event. To pre-register, please visit the following link: https://store.topekazoo.org/#/Education
Contact 785-368-9137 or email Education@Topekazoo.org with questions. Closed-toed shoes, bug spray, water, and long pants are recommended for this event.
Data collected from these classes will be sent to the citizen science organization Monarch Watch, which will use the information to help preserve and protect this beautiful species.