Topeka Zoo is excited to offer Fall and Winter Adventure Camps!
This camp is for children ages 6-12 (can be 5 if currently in kindergarten), and registration is on a DAILY basis—so you can sign up for as many days as you'd like. Registration for fall and winter camps is now open! The 2021 dates and themes are listed below. Please note there is no camp on December 24th and 31st.
Camp runs from 9:00-3:00 and is held in the zoo's Gary Clarke Education Classroom. Each camp day will include a live animal education program, behind-the-scenes tour, crafts, games, and more! There is no stay-late option for fall or winter camp.
The cost is $40/day for FOTZ members and $45/day for non-members.
Capacity: 25 students/day
---
Dates, Themes, and Descriptions:
October 14 – Autumn Colors
The changing and falling of the leaves isn't just for our viewing pleasure, it's also a time of change for many animals. In this camp, we'll explore the importance of autumn for animals!
October 15 – Monster Mash
Some monsters aren't actually scary. In this Halloween-themed camp, we'll learn more about predators that might get a bad rep from time to time.
November 24 – Zooperstitions
From the sphynx to chimeras, this camp will uncover the origins of animal superstitions and myths throughout history!
December 20 – Cozy Winter
We have our jackets and mittens ready to go, but what do animals use to keep warm? We'll learn more about winter adaptations that help animals stay cozy all year long! Bonus points if you wear an "ugly" holiday sweater!
December 21 – Winter Sky
Look to the sky among the falling snowflakes and you might see some amazing things! During this camp day, we'll explore some of the amazing animals that call the winter sky "home."
December 22 – Beauty of Winter Art Camp
Chilly weather won't stop us from being artfully inspired! In this day of camp, we'll use the beauty of winter to help us create winter-themed crafts!
December 23 – Back to the Zoo-ture
We don't need the DeLorean to find out what animals used to roam here! In this camp, we'll journey into the past to learn about ancestral animals of Kansas!
December 27 – Into the Unknown
What might be lurking at the bottom of the ocean? A water spirit perhaps? In this camp we'll travel into the unknown to explore the more mysterious parts of the ocean and sing a Frozen song or two!
December 28 – Cool Camouflage
Now you see them, now you don't! If you've ever wondered how some animals are so good at playing hide and seek, this camouflage-themed camp is right for you!
December 29 – Polar Plunge
Grab your flippers and scuba gear as we dive deep into learning about marine mammals!
December 30 – Herp, Herp, Hooray!
We'll prepare for the new year by learning about some fabulous herps! Amphibians and reptiles, everyone's ready to celebrate you!
January 3 – Elfin' Around
Where do elves go on vacation after the holidays are over? Let's explore a few warm places during the winter to see if we can find them!
---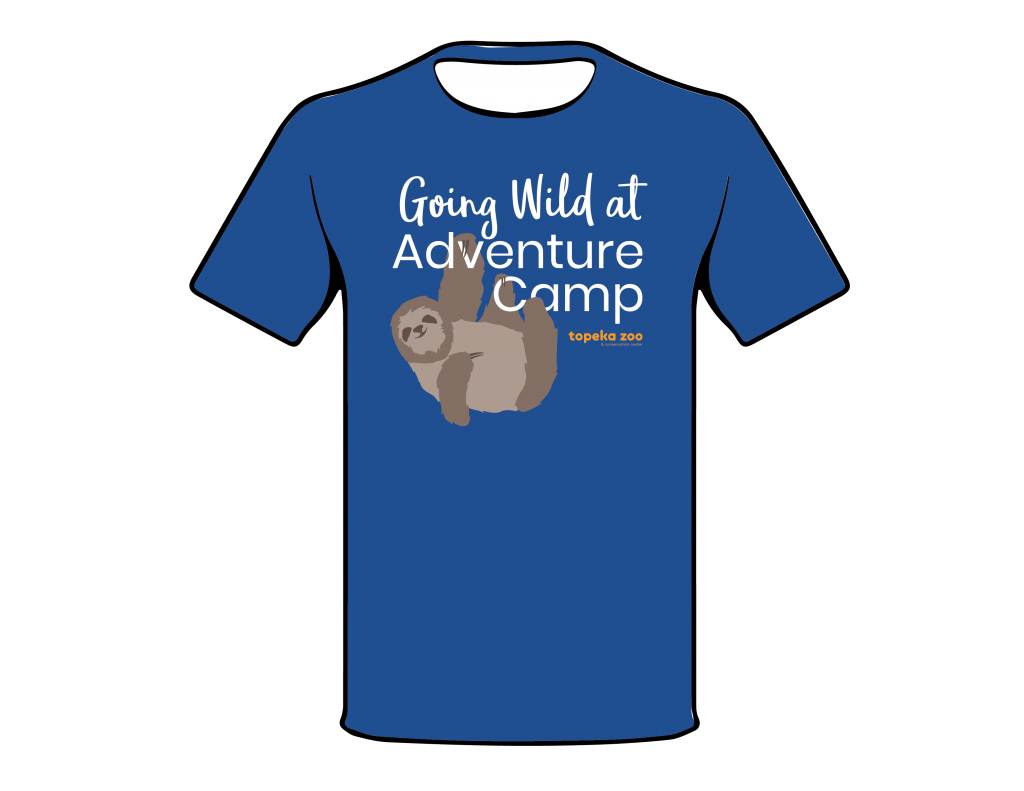 Optional Camp T-Shirt: $14/shirt (plus tax) with youth and adult sizes available (additional charges apply for Adult 2XL and 3XL). Available at https://store.topekazoo.org/#/Education. Shirts will be given to students during their first camp day.
Mask Requirements: All students must wear a mask to camp. See below for the zoo's mask requirements.
Students age 5 and older must wear a mask indoors at all times. When outdoors, students do not have to wear a mask if they can distance 3 feet or more from others; if social distancing cannot be maintained, then masks are required outdoors as well. This means our camp space, the Gary Clarke Education Classroom, will require masks. We will spread out outside and take mask breaks throughout each day. The only mask exceptions are during lunch, snack, and to get a quick drink, as well as the one afternoon we spend at the pool each week (summer only).
Zoo staff and parents must follow all of the same protocols as students age 5 and older.
Cancellation Policy: If you cancel your camp registration 8 or more days before the start date, the Zoo will refund the registration fee, except for $10 for single-day camp registrations and $20 for the week-long registrations. This fee is applied per child per camp you cancel. The Zoo will not refund any registration fees if cancellation occurs within 7 days of the start date. If space is still available, you may transfer your registration to another camp week for no additional fee. If transferring, it must be to a camp within the same camp season and calendar year. For example, cancelling a summer camp cannot be transferred to fall/winter camps. Cancellations due to Covid-19 will be evaluated on a case-by-case basis. Please contact (785)368-9137 or Education@Topekazoo.org to cancel or questions. Updated: September 2021
KDHE Forms
These forms are required to be completed by the morning of the first day of camp (before you drop your child off), otherwise your child cannot attend camp until we have the following paperwork. These are kept on file for an entire calendar year–so you only need to fill them out once per camp year. Thus, if your child attended spring break or summer camp at the zoo in 2017, you do NOT need to refill out these forms.
Health History Form –> Required for ALL children. Immunization records are not required if your child attended school in Kansas, Missouri, or Oklahoma this year. Immunization records are required if they did not attend public/private school or attended in another state other than KS, MO, or OK. Please note that this form has to be completed in its entirety. We need all names and street addresses where it asks for them (street intersections do not work). If none of the boxes at the top of page 2 are applicable, please write "NA" in each box.
Authorization for Emergency Medical Care –> Required for ALL children. You do not need a notary if you have someone else witness your signature and sign as well. Please note, health insurance information is required at the bottom. If your child does not have any allergies, please write "NA" on that line.
The following two forms are only required for children who bring medication to camp. You will only choose one of the following forms.
Authorization for Self-Administration of Medication –> Please fill this out if you have a child who will be dispensing their own medications while at camp–including medicine, EpiPens, inhalers, etc. This means that camp counselors do not carry around these items and the camper is responsible for dispensing medication to themselves. You do NOT need it signed by a licensed physician or nurse practitioner.
Authorization for Dispensing Medications to Children –> Please fill this out if you have a child who wishes to have camp staff dispense medication to them. This includes having counselors carry around EpiPens, inhalers, medicines, etc and having the staff dispense it as needed.
You may email completed forms to RRost@Topeka.org before camp starts or may bring them to the first day of camp your child attends this year. Please contact 785-368-9137 with questions.
Thinking about a membership? If you are signing up for at least camps, a family FOTZ membership pays for itself! Click here to learn more about the benefits of becoming a member or sign up today.