Want to take part?
Come back later to learn about how you can be a part of Dream Night!
Details
Date: November 20, 2023
Time: 5:00 pm - 9:00 pm
Things to know:
Wheelchairs are limited and are available to be rented on a first-come, first-served basis.

Quiet Zone is located in the Gary K. Clarke Education Center.

First Aid tent is located at the front of the zoo in the gift shop.

Flashing lights are indicated on the map and on signs before tunnels.

Safety Stickers will be offered once inside the zoo.
Safety Stickers!
Please plan to stop at the registration station to receive safety stickers. Stickers will consist of the names of both the individual and guardian's contact information to be used in case of emergency. Help us ensure the safety of guests by filling out the sticker and placing it on the back of the individual. This information will be used to contact guardians in the case of separation or emergency.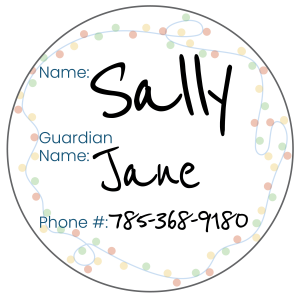 A Magical Night for All to Enjoy
The Topeka Zoo is proud to bring back "Dreamnight" this year on November 20. Dream Night allows individuals with special health needs the opportunity to visit the zoo with their families and provides an environment where they can feel more comfortable to enjoy the lights and other special activities at their own pace in a safe, yet fun setting.
The tradition was started in 1996 at the Rotterham Zoo in the Netherlands by animal keeper, Peter van der Wulp when he noticed families of children diagnosed with cancer often had other expenses to meet and were unable to find free time to visit and feared the stigma that surrounded their condition. The Rotterham zoo created an event where these children and their families were able to visit the zoo and have a fun, relaxing evening. The event has spread around the world since then and has quickly become an incredibly meaningful tradition at the Topeka Zoo!
This event is free and by invitation only. Check back later for more information about how you can be invited.
ZOO LIGHTS MAP - COMING SOON!
Thank you to our Dream Night Sponsors