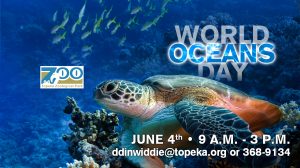 The Topeka Zoo & Conservation Center is partnering with The Ocean Project, The World Ocean Network, and with zoos and aquariums across the nation and around the world to celebrate World Oceans Day on Saturday, June 4, from 9 am-3 pm. and you're invited!
World Oceans Day celebrates the oceans of the world that cover 70% of our earth's surface, provide most of our oxygen, feed us, and impact on the daily lives of every living thing on the planet.
The event at the Topeka Zoo will combine exhibits, presentations, and activities around the zoo to emphasizes the importance of the world's oceans to each of us and the challenges they are facing, while also providing information on actions that can be taken from here in the middle of the country so far from the nearest shore, to support and protect the health of the world's oceans.
The Seafood Manager of Topeka's Hy-Vee Store will be on hand at the zoo distributing fresh seafood samples hot off the grill on the zoo's main walkway, and discussing the need to make responsible seafood choices to protect the world's oceans from over fishing.
Other activities around the zoo will provide crafts for kids to make and take, other edible treats, face painting, special exhibits and hands-on projects.
Come join us at the Topeka Zoo & Conservation Center on Saturday, June 4 to explore and celebrate our connection to the world's oceans, what they do for us, and what we can do for them.
Then plan to come back in the evening at 6:30 pm, and join us for a special Conservation Connection program with a guest speaker from the Monterey Bay Aquarium.  This program is a free event open to the public. See more details on this evening program here.