ASIAN ELEPHANT AWARENESS MONTH
Donate to help save Asian elephants and the chance to give Cora a bubble bath!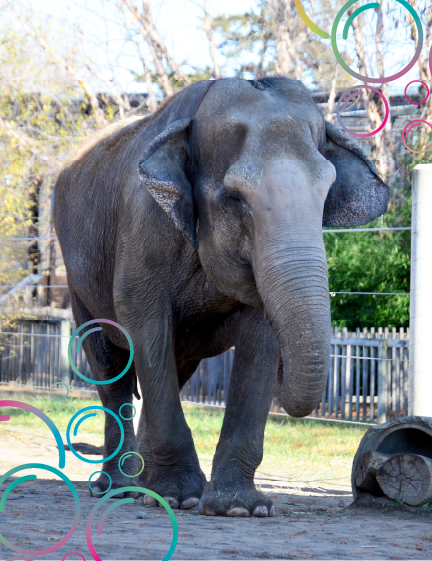 Cora The Asian Elephant
Cora, the Asian elephant came to Topeka in 2016 and has yet to meet anyone she doesn't like. Though she is older, she makes sure her age doesn't get in the way of her fun. She enjoys dusting, getting hose baths, cooling off in the sprinklers,  and spending lots of time with her keepers. Cora knows several behaviors that help us to take the best care of her including exercises and presenting parts of her body so that we can provide thorough health checks. Cora is known for squeaking when she doesn't understand what a keeper wants (or maybe just doesn't want to do it right now). Her gentle personality and endearing spirit can capture anyone's heart.
Zoo Keepers at the Topeka Zoo and Conservation Center are committed to helping save elephants. In doing so, one lucky person is going to get to help give an elephant a bath. While there is not an actual bathtub involved, there will be lots of rubs and scrubs.
August is Asian Elephant Awareness Month! While Asian elephants are an engaging, unique, and cherished species they are at risk of contracting elephant endotheliotropic herpesvirus (EEHV) that is typically fatal; especially to young elephants. The Topeka Zoo wants to shine a light on the Asian Elephant, highlight the challenges this species faces, and provide an opportunity for the community to help by entering a drawing for a chance to participate in an elephant bath.
The Association of Zoos and Aquariums' Saving Animals From Extinction program has asked zoos across the country to help in raising donations to help elephants in their range countries including Nepal, Sri Lanka, Vietnam, and Thailand. Funds raised will be sent to the International Elephant Foundation (IEF) to help combat this virus. The money will go to provide equipment for diagnosis, staff training, and the purchase of anti-viral and other support medications.
Topeka Zoo will collect donations throughout the month of August. Every $5.00 donation to the Asian elephant cause will be entered into a drawing. One winner will be randomly chosen to have an opportunity to participate in giving Asian elephant Cora a bubble bath. Additionally, the winner will receive an elephant painting by Cora!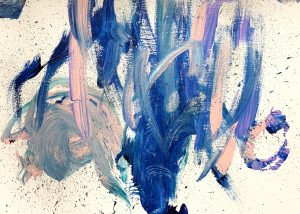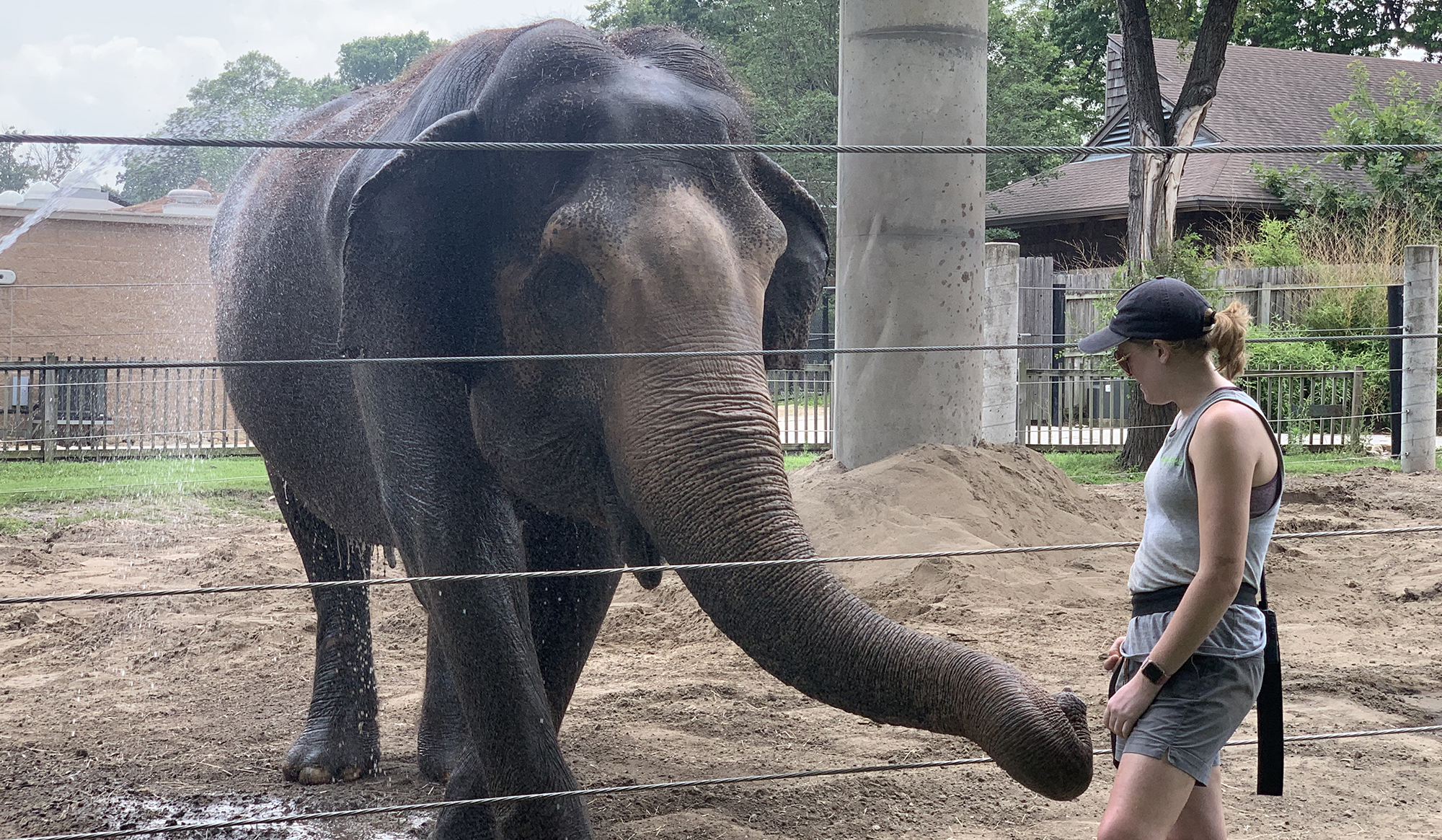 Purchase tickets to enter a raffle for a chance to bathe Cora the African Elephant!
Ticket Prices:
1 ticket - $5
3 tickets - $10
8 tickets - $20*


*Our African Elephant Tembo wanted in on the fun too! $20 ticket purchase comes with a "Kiss from Tembo" painting!
Really want to bathe Cora?
Donate $500 to guarantee an opportunity to bathe Cora!
Just contact Fawn Moser to set up your bath! 785-368-9159
*separate from raffle*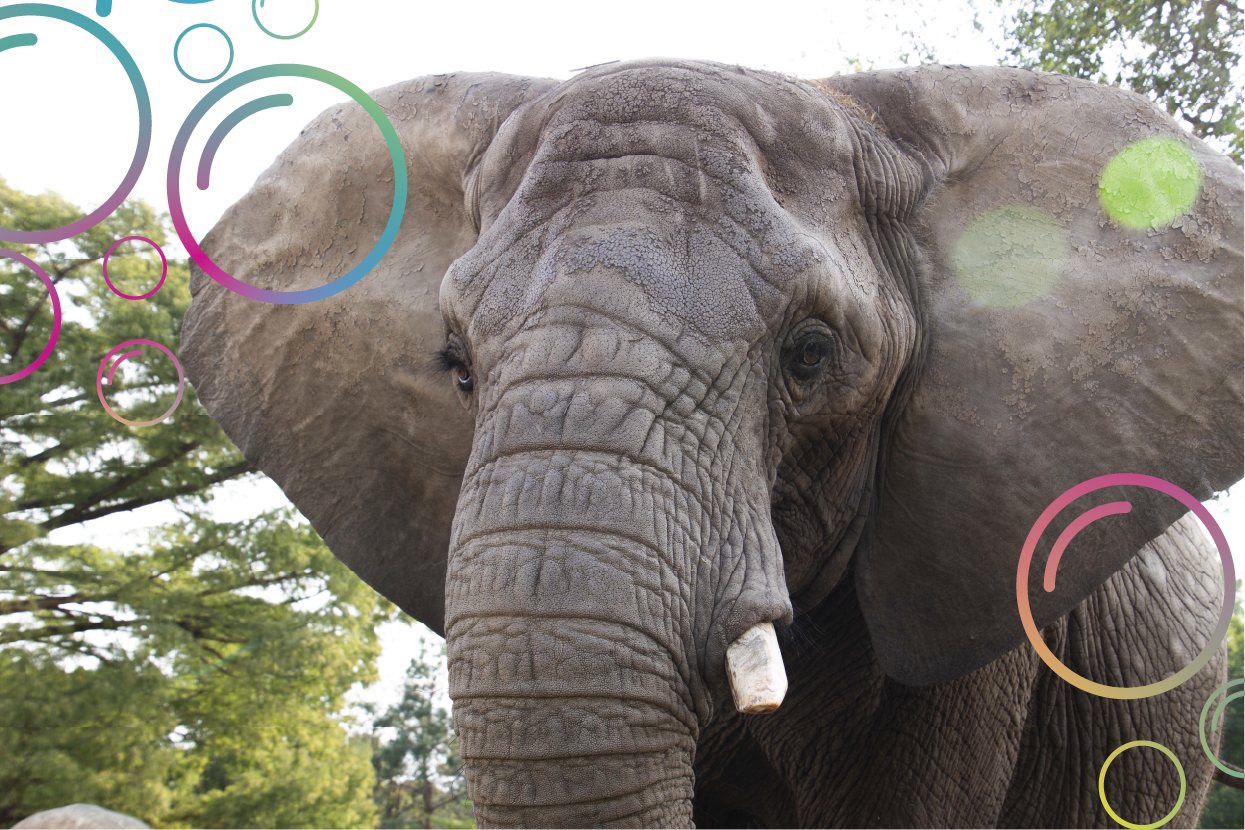 Tembo the African Elephant
Tembo the African elephant joined the Topeka Zoo in 1976 and quickly became a staff and guest favorite. As described by one of her caretakers, Tembo has an immense amount of spunk for a lady in her fifties. She has the most incredible eyelashes and never wants to be left out of the action. Tembo loves pushing around toys and treats, showing off her incredible strength and grace. Tembo participates in her own health care, voluntarily working with her trainers to keep her healthy and fit.