Help support conservation initiatives and pollinator habitats with flowers!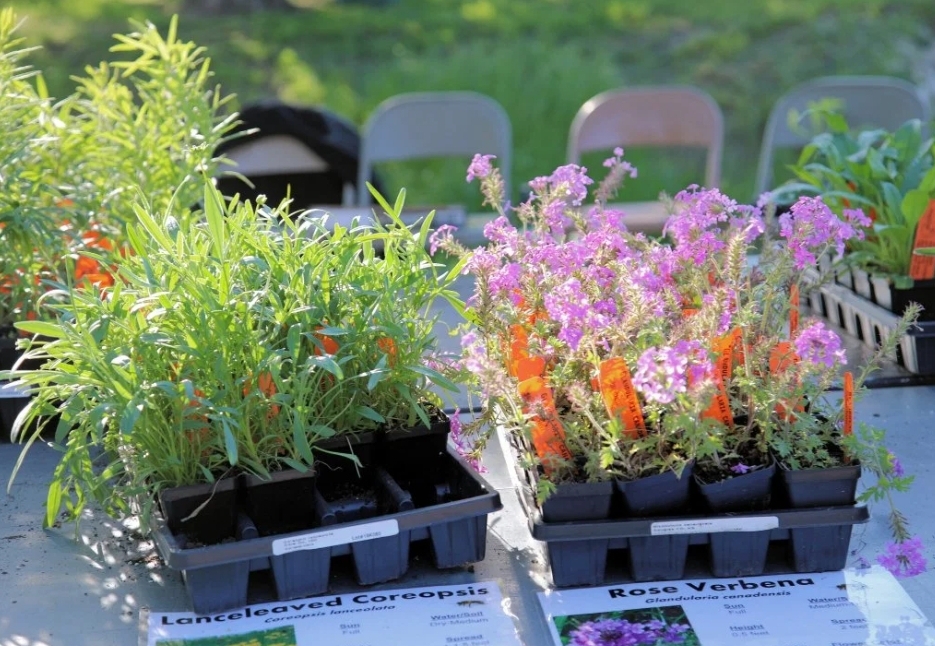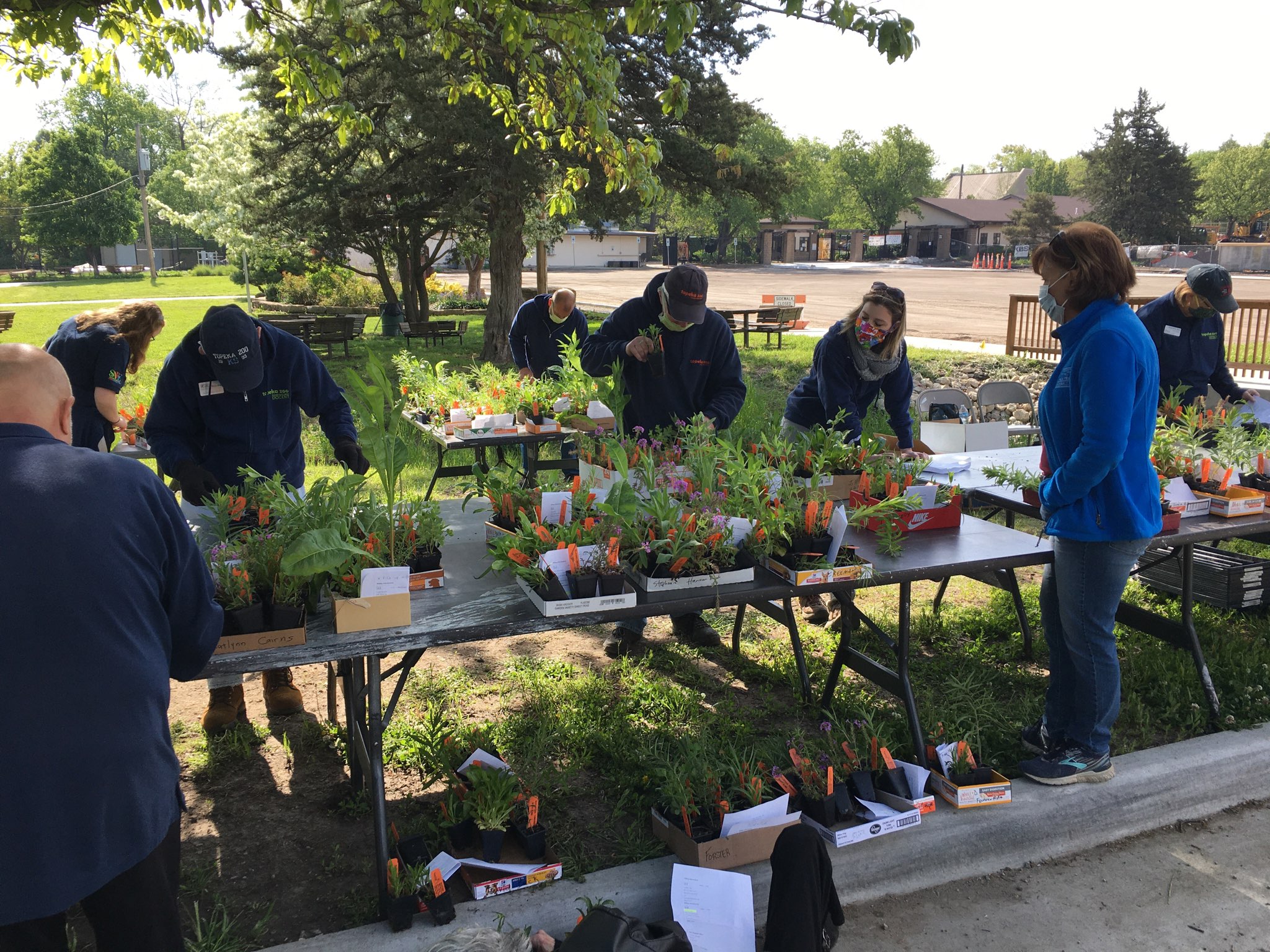 Be a part of increasing pollinator habitats by exploring the variety of native plants available for purchase at the wildflower sale!
When
Saturday, May 7th at 8 am – 2 pm
Where
Topeka Zoo Parking Lot (no zoo admissions required)
Price
$4.00 per plant; 100% of the proceeds go towards local, national, and international conservation.
Can pay with cash, check, or card (visa, master card, discover)
For questions, please contact Denis Dinwiddie at ddinwiddie@topeka.org.

Young, Local Designer is Blooming!
This year, the Topeka Zoo gave local, young designers the opportunity to design the Native Plant Sale Logo. Students in the Seaman High School Graphic Design Class submitted their designs to be voted on. Submissions were asked to include the Topeka Zoo Logo, be colorful, lively, and simple. After receiving many creative entries, it was decided the winner was Adyson Cashman, who designed the logo you see here!
Available Native Wildflowers

Common Milkweed
Asclepias syriaca
Sun - Full
Height -  4 feet
Flowering Months - June-July
Water/Soil - Drained-Dry
Spread - 1 foot
Flower Color - Purple/Lavender/ Pink
Lifespan- Perennial
Attracts -Monarch butterflies, bees, beetles, flies
Butterfly Milkweed
Asclepias tuberosa
Sun - Full
Height - 2.5 feet
Flowering - Months June-July
Water/Soil - Medium-Dry
Spread - 3 feet
Flower - Color Yellow/Orange/Red
Lifespan - Perennial
Attracts - Monarch and queen butterflies, bees, & birds

Prairie Milkweed
Asclepias sullivanti
Sun - Full
Height - 2-3 feet
Flowering Months - June-July
Water/Soil - Medium-Wet
Spread - 1-1.5 feet
Flower Color - Pink
Lifespan - Perennial
Attracts - Butterflies
Bush's Poppy Mallow
Callirhoe bushii
Sun - Full
Height - 1-5 feet
Flowering Months - June-August
Water/Soil - Dry-Medium
Spread - 1-2 feet
Flower Color - Magenta
Lifespan - Perennial
Attracts - Hummingbirds, bees, butterflies

Blue Wild Indigo
Baptisia australis
Sun - Full to Part
Height - 1-4 feet
Flowering Months - May-June
Water/Soi -l Medium-Dry
Spread - 3-4 feet
Flower Color - Indigo Blue/Purple
Lifespan - Perennial
Attracts - Bumblebees, moths, & skippers

Prairie Phlox
Phlox pilosa
Sun - Full
Height - 1-1.5 feet
Flowering Months - May-July
Water/Soil - Medium
Spread - 1-1.5 feet
Flower Color - Pink-Pale purple
Lifespan - Perennial
Attracts - Hummingbirds, butterflies

Largeflower Penstemon
Penstemon
Sun - Full
Height - 2 feet
Flowering Months - May-June
Water/Soil - Drained to Dry
Spread - 1 foot
Flower Color - White/Pink
Lifespan - Perennial
Attracts - Birds, sweat bees, leafcutter bees, bumble bees
Foxglove penstemon
Penstemon digitalis
Sun - Full or Part
Height - 2-5 feet
Flowering Months - May-July
Water/Soil - Moist to Medium
Spread - 1 foot
Flower Color - White
Lifespan - Perennial
Attracts - Hummingbirds, songbirds, bees
Lance leaved Coreopsis
Coreopsis lanceolata
Sun - Full
Height - 1-2 feet
Flowering Months - May-July
Water/Soil - Dry-Medium
Spread - 1-1.5 feet
Flower - Color Yellow
Lifespan - Perennial
Attracts -Honeybees & butterflies

Purple Prairie Clover
Dalea purpurea
Sun Full
Height 1.5 feet
Flowering Months July-August
Water/Soil Drained-Dry
Spread 2 feet Flower
Color Violet
Lifespan Perennial
Attracts honey bees, leaf-cutter bees, bumble bees, sweat bees, alkali bees
Bigleaf primrose
Oenothera macrocarpa
Sun - Full to Part
Height - 0.8 feet
Flowering Months - April-May
Water/Soil - Medium-Dry
Spread - 1 foot
Flower Color - Yellow
Lifespan - Perennial
Attracts -Hummingbirds, moths, butterflies, bees
Purple coneflower
Echinacea prupurea
Sun - Full-Partial
Height - 2-5 feet
Flowering Months - June-August
Water/Soil - Dry-Medium
Spread - 1.5-2 feet
Flower Color - Purplish Pink
Lifespan - Perennial
Attracts - Finches, jays, butterflies

Pale Purple Coneflower
Echinacea pallida
Sun - Full
Height - 3 feet
Flowering Months - June-July
Water/Soil - Medium-Dry
Spread - 2 feet
Flower Color - Violet/Purple/Pink
Lifespan - Perennial
Attracts - Butterflies, bees, hummingbirds, flies

Cup Plant
Silphium perforliatum
Sun - Full
Height - 4-8 feet
Flowering Months - July-September
Water/Soil - Medium-Wet
Spread - 1-3 feet
Flower Color - Yellow
Lifespan - Perennial
Attracts - Birds, butterflies
Lead plant
Amorpha canescens
Sun - Full
Height - 2-3 feet
Flowering Months - July-September
Water/Soil - Dry-Medium
Spread - 2-2.5 feet
Flower Color - Purple, Blue
Lifespan - Perennial
Attracts - Birds, butterflies
Blackeyed Susan
Rudbeckia hirta
Sun - Full Sun-Part Shade
Height - 3-4 feet
Flowering Months - June-August
Water/Soil - Moist-Drained-Dry
Spread - 2-3 feet
Flower Color - Yellow
Lifespan - Biennial
Attracts - Honeybees, moths, butterflies, beetles, skippers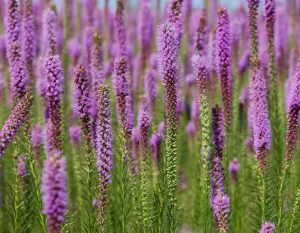 Prairie Blazing Star
Liatris pycnostachya
Sun - Full
Height - 2-5 feet
Flowering Months - July-August
Water/Soil - Dry-Medium
Spread - 1-2 feet
Flower Color - Lilac-Purple
Lifespan - Perennial
Attracts - Hummingbirds, birds, butterflies

Rough Blazingstar
Liatris aspera
Sun - Full-Part
Height - 2-4 feet
Flowering Months - August-October
Water/Soil - Drained-Dry
Spread - 1 foot
Flower Color - Lavender/Purple
Lifespan - Perennial
Attracts -Hummingbirds, moths, butterflies
Blue Pitcher Sage
Salvia pitcherii
Sun - Part
Height - 3-5 feet
Flowering Months - August-October
Water/Soil - Dry
Spread - 2-4 feet
Flower Color - Sky blue
Lifespan - Perennial
Attracts - Blue sage bee, bumble bees, hummingbirds, butterflies
Heath Aster
Symphyotrichum ericoides
Sun - Full
Height - 1-3 feet
Flowering Months - August-October
Water/Soil - Dry-Medium
Spread - 1-1.5 feet
Flower - Color White
Lifespan - Perennial
Attracts - Butterflies

Ox Eye Sunflower
Heliopsis helianthoides
Sun - Full
Height - 2-4 feet
Flowering Months - August-September
Water/Soil - Dry-Medium
Spread - 1.5-2 feet
Flower Color - Orange-yellow rays and yellow disks
Lifespan - Perennial
Attracts -Birds & butterflies
Elmleaf Goldenrod
Solidago ulmifolia
Sun - Full-Part
Height - 1-3 feet
Flowering Months - July-October
Water/Soil - Medium
Spread - 1-3 feet
Flower Color - Yellow
Lifespan - Perennial
Attracts - Butterflies
Lavender Hyssop
Agastsche foeniculum
Sun - Full-Part
Height 2-4 feet
Flowering Months - June-September
Water/Soil - Dry-Medium
Spread - 1.5-3 feet
Flower Color - Lavender/Purple
Lifespan - Perennial
Attracts -Hummingbirds, butterflies
Ironweed
Vernonia fascialata
Sun - Full
Height - 2-4 feet
Flowering Months - July-September
Water/Soil - Moist-Wet
Spread - 1-3 feet
Flower Color - Purple/Red
Lifespan - Perennial
Attracts - Sweat bees, leafcutter bees, cuckoo bees, small carpenter bees, and bumble bees
Prairie Coneflower
Ratibida columnifera
Sun - Full to Part
Height 1-3 feet
Flowering Months - June-September
Water/Soil - Dry to medium
Spread - 1-1.5 feet
Flower Color - Yellow rays with dark brown disks
Lifespan - Perennial
Attracts - Bees, beetles, flies, butterflies

Western Sunflower
Heliopsis occidentalis
Sun - Full
Height - 2-4 feet
Flowering Months - August-September
Water/Soil - Dry-Medium
Spread - 1.5-2 feet
Flower Color - Orange-yellow rays with yellow disks
Lifespan - Perennial
Attracts - Birds, butterflies