Help support conservation initiatives and pollinator habitats with flowers!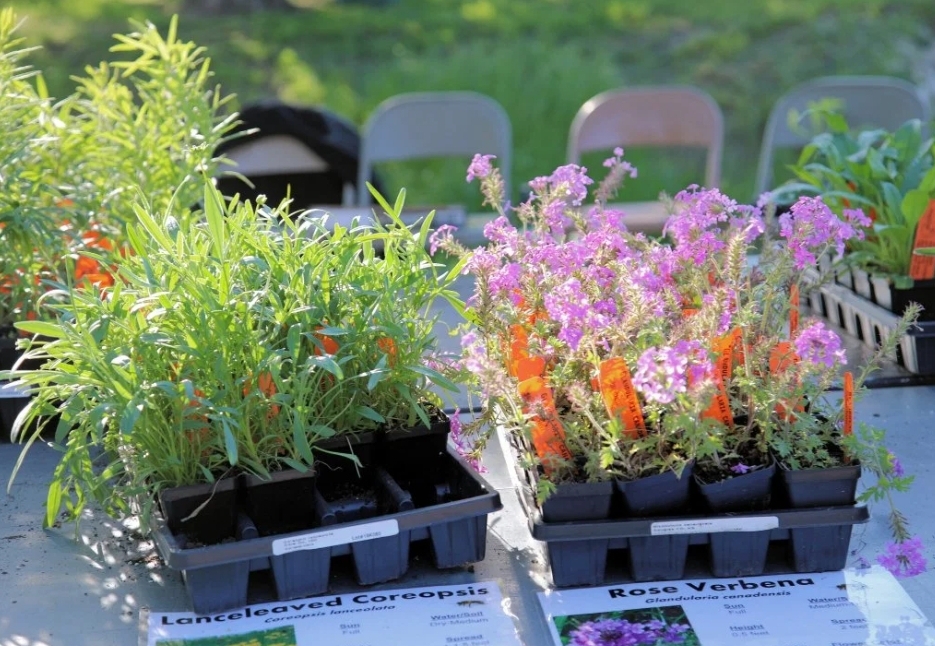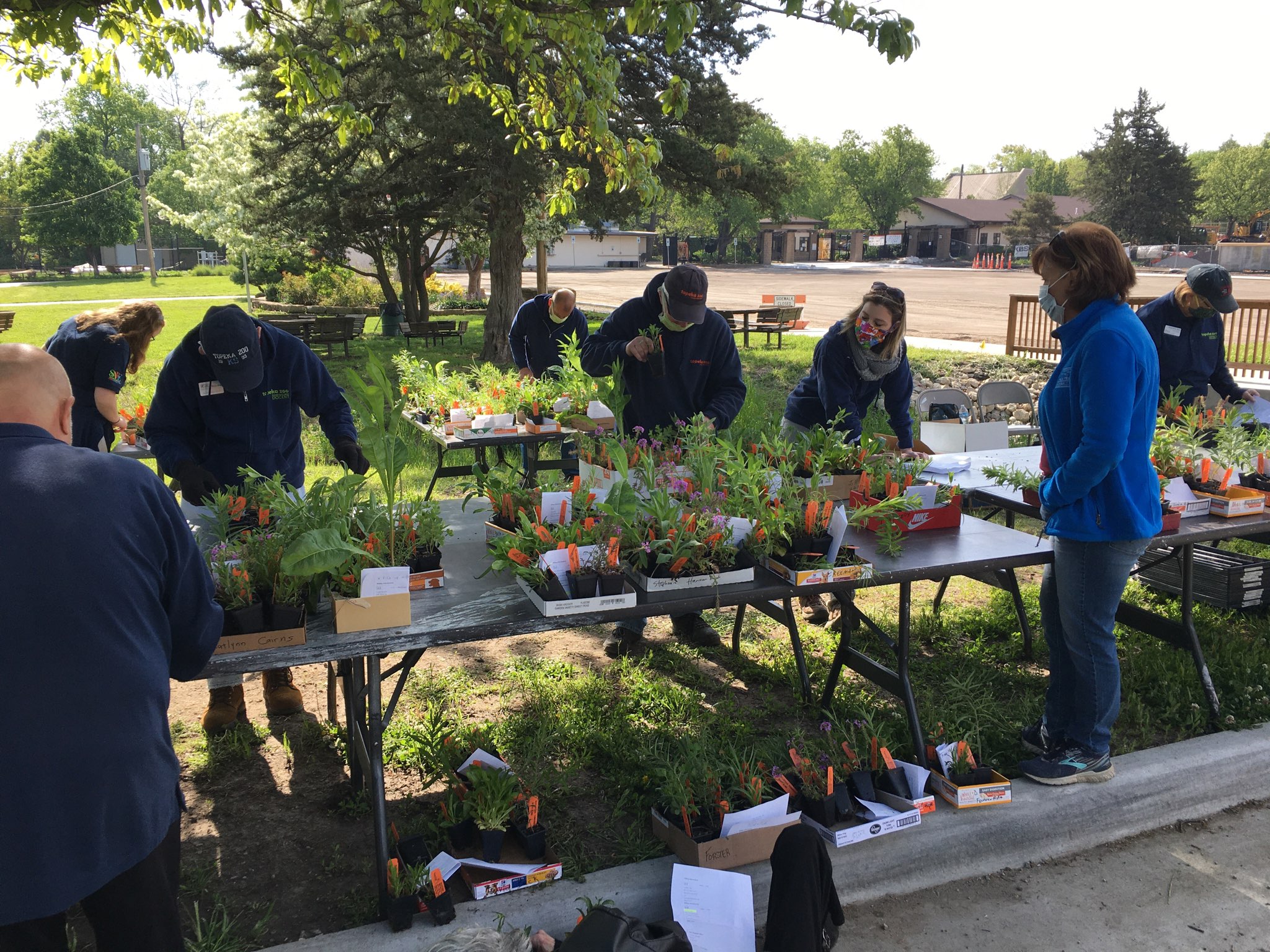 Be a part of increasing pollinator habitats by exploring the variety of native plants available for purchase at the wildflower sale!
When
Saturday, May 8th at 8 am – 2 pm
Where
Topeka Zoo Parking Lot (no zoo admissions required)
Price
$4.00 per plant; 100% of the proceeds go towards local, national, and international conservation.
Can pay with cash, check, or card (visa, master card, discover)
Pre-Order Wildflower Sale
The Pre-Order Wildflower Sale will open online at 9:00 am, Wednesday, May 5

th

, and will close at 12:00 pm, Friday, May 7

th

.

The first 72 orders receive a free Jindai aster!
Pre-orders can be pick up in the zoo parking lot, from 10:00 am-3:00 pm on Friday, May 7th or 8:00 am-2:00 pm in the zoo parking lot on Saturday, May 8th. Orders MUST be picked up by 2:00 pm on Saturday, May 8th.
For questions, please contact Rachael Rost at 785-368-9137 or rrost@topeka.org.
Link does not work well on Internet Explorer, please use a different web browser
Available Native Wildflowers

Common Milkweed
Asclepias syriaca
Sun - Full
Height -  4 feet
Flowering Months - June-July
Water/Soil - Drained-Dry
Spread - 1 foot
Flower Color - Purple/Lavender/ Pink
Lifespan- Perennial
Attracts -Monarch butterflies, bees, beetles, flies
Butterfly Milkweed
Asclepias tuberosa
Sun - Full
Height - 2.5 feet
Flowering - Months June-July
Water/Soil - Medium-Dry
Spread - 3 feet
Flower - Color Yellow/Orange/Red
Lifespan - Perennial
Attracts - Monarch and queen butterflies, bees, & birds

Prairie Milkweed
Asclepias sullivanti
Sun - Full
Height - 2-3 feet
Flowering Months - June-July
Water/Soil - Medium-Wet
Spread - 1-1.5 feet
Flower Color - Pink
Lifespan - Perennial
Attracts - Butterflies
Bush's Poppy Mallow
Callirhoe bushii
Sun - Full
Height - 1-5 feet
Flowering Months - June-August
Water/Soil - Dry-Medium
Spread - 1-2 feet
Flower Color - Magenta
Lifespan - Perennial
Attracts - Hummingbirds, bees, butterflies

Blue Wild Indigo
Baptisia australis
Sun - Full to Part
Height - 1-4 feet
Flowering Months - May-June
Water/Soi -l Medium-Dry
Spread - 3-4 feet
Flower Color - Indigo Blue/Purple
Lifespan - Perennial
Attracts - Bumblebees, moths, & skippers

Prairie Phlox
Phlox pilosa
Sun - Full
Height - 1-1.5 feet
Flowering Months - May-July
Water/Soil - Medium
Spread - 1-1.5 feet
Flower Color - Pink-Pale purple
Lifespan - Perennial
Attracts - Hummingbirds, butterflies

Largeflower Penstemon
Penstemon
Sun - Full
Height - 2 feet
Flowering Months - May-June
Water/Soil - Drained to Dry
Spread - 1 foot
Flower Color - White/Pink
Lifespan - Perennial
Attracts - Birds, sweat bees, leafcutter bees, bumble bees
Foxglove penstemon
Penstemon digitalis
Sun - Full or Part
Height - 2-5 feet
Flowering Months - May-July
Water/Soil - Moist to Medium
Spread - 1 foot
Flower Color - White
Lifespan - Perennial
Attracts - Hummingbirds, songbirds, bees
Lance leaved Coreopsis
Coreopsis lanceolata
Sun - Full
Height - 1-2 feet
Flowering Months - May-July
Water/Soil - Dry-Medium
Spread - 1-1.5 feet
Flower - Color Yellow
Lifespan - Perennial
Attracts -Honeybees & butterflies

Purple Prairie Clover
Dalea purpurea
Sun Full
Height 1.5 feet
Flowering Months July-August
Water/Soil Drained-Dry
Spread 2 feet Flower
Color Violet
Lifespan Perennial
Attracts honey bees, leaf-cutter bees, bumble bees, sweat bees, alkali bees
Bigleaf primrose
Oenothera macrocarpa
Sun - Full to Part
Height - 0.8 feet
Flowering Months - April-May
Water/Soil - Medium-Dry
Spread - 1 foot
Flower Color - Yellow
Lifespan - Perennial
Attracts -Hummingbirds, moths, butterflies, bees
Purple coneflower
Echinacea prupurea
Sun - Full-Partial
Height - 2-5 feet
Flowering Months - June-August
Water/Soil - Dry-Medium
Spread - 1.5-2 feet
Flower Color - Purplish Pink
Lifespan - Perennial
Attracts - Finches, jays, butterflies

Pale Purple Coneflower
Echinacea pallida
Sun - Full
Height - 3 feet
Flowering Months - June-July
Water/Soil - Medium-Dry
Spread - 2 feet
Flower Color - Violet/Purple/Pink
Lifespan - Perennial
Attracts - Butterflies, bees, hummingbirds, flies

Cup Plant
Silphium perforliatum
Sun - Full
Height - 4-8 feet
Flowering Months - July-September
Water/Soil - Medium-Wet
Spread - 1-3 feet
Flower Color - Yellow
Lifespan - Perennial
Attracts - Birds, butterflies
Lead plant
Amorpha canescens
Sun - Full
Height - 2-3 feet
Flowering Months - July-September
Water/Soil - Dry-Medium
Spread - 2-2.5 feet
Flower Color - Purple, Blue
Lifespan - Perennial
Attracts - Birds, butterflies
Blackeyed Susan
Rudbeckia hirta
Sun - Full Sun-Part Shade
Height - 3-4 feet
Flowering Months - June-August
Water/Soil - Moist-Drained-Dry
Spread - 2-3 feet
Flower Color - Yellow
Lifespan - Biennial
Attracts - Honeybees, moths, butterflies, beetles, skippers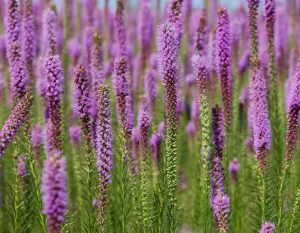 Prairie Blazing Star
Liatris pycnostachya
Sun - Full
Height - 2-5 feet
Flowering Months - July-August
Water/Soil - Dry-Medium
Spread - 1-2 feet
Flower Color - Lilac-Purple
Lifespan - Perennial
Attracts - Hummingbirds, birds, butterflies

Rough Blazingstar
Liatris aspera
Sun - Full-Part
Height - 2-4 feet
Flowering Months - August-October
Water/Soil - Drained-Dry
Spread - 1 foot
Flower Color - Lavender/Purple
Lifespan - Perennial
Attracts -Hummingbirds, moths, butterflies
Blue Pitcher Sage
Salvia pitcherii
Sun - Part
Height - 3-5 feet
Flowering Months - August-October
Water/Soil - Dry
Spread - 2-4 feet
Flower Color - Sky blue
Lifespan - Perennial
Attracts - Blue sage bee, bumble bees, hummingbirds, butterflies
Heath Aster
Symphyotrichum ericoides
Sun - Full
Height - 1-3 feet
Flowering Months - August-October
Water/Soil - Dry-Medium
Spread - 1-1.5 feet
Flower - Color White
Lifespan - Perennial
Attracts - Butterflies

Ox Eye Sunflower
Heliopsis helianthoides
Sun - Full
Height - 2-4 feet
Flowering Months - August-September
Water/Soil - Dry-Medium
Spread - 1.5-2 feet
Flower Color - Orange-yellow rays and yellow disks
Lifespan - Perennial
Attracts -Birds & butterflies
Elmleaf Goldenrod
Solidago ulmifolia
Sun - Full-Part
Height - 1-3 feet
Flowering Months - July-October
Water/Soil - Medium
Spread - 1-3 feet
Flower Color - Yellow
Lifespan - Perennial
Attracts - Butterflies
Lavender Hyssop
Agastsche foeniculum
Sun - Full-Part
Height 2-4 feet
Flowering Months - June-September
Water/Soil - Dry-Medium
Spread - 1.5-3 feet
Flower Color - Lavender/Purple
Lifespan - Perennial
Attracts -Hummingbirds, butterflies
Ironweed
Vernonia fascialata
Sun - Full
Height - 2-4 feet
Flowering Months - July-September
Water/Soil - Moist-Wet
Spread - 1-3 feet
Flower Color - Purple/Red
Lifespan - Perennial
Attracts - Sweat bees, leafcutter bees, cuckoo bees, small carpenter bees, and bumble bees
Prairie Coneflower
Ratibida columnifera
Sun - Full to Part
Height 1-3 feet
Flowering Months - June-September
Water/Soil - Dry to medium
Spread - 1-1.5 feet
Flower Color - Yellow rays with dark brown disks
Lifespan - Perennial
Attracts - Bees, beetles, flies, butterflies

Western Sunflower
Heliopsis occidentalis
Sun - Full
Height - 2-4 feet
Flowering Months - August-September
Water/Soil - Dry-Medium
Spread - 1.5-2 feet
Flower Color - Orange-yellow rays with yellow disks
Lifespan - Perennial
Attracts - Birds, butterflies