Topeka zoo receives education donation from reser's fine foods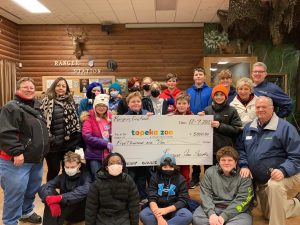 Topeka, KAN-Reser's Fine Foods has awarded the Topeka Zoo and Conservation Center a gift of $5,000 to support education programming. Members of Reser's Cares Committee formally presented the Topeka Zoo with the check on Tuesday, December 7 with Eco Club middle school students in attendance.
The award will support education programming at the Zoo to provide STEAM-based curriculum for virtual and in-person programs like Adventure Camps, Zoo2School, and Eco Club. It will also support scholarship opportunities for students based on financial need. 
"We are both thrilled and grateful for this new relationship with a leading business in our community," Jannett Wiens, Topeka Zoo Major Gifts Officer said.
The Topeka Zoo is home to top-tier education programs with year-round, hands-on educational activities. Since 2014, 161,691 students have participated in education programs through the Zoo. Donations help the Topeka Zoo in their mission to increase diversity, accessibility, equity, and inclusion.
Each year, Reser's Cares Teams provide support to over 900 organizations across the country. Reser's Cares Teams are one of the ways Reser's shows commitment to their community through sustainability, a philosophy that is also important to the Zoo.