Topeka Zoo Hosts Dream Night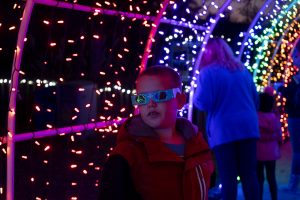 Topeka, KAN-The Topeka Zoo hosted Dream Night, a special invitation-only event for Zoo Lights on Monday night. The event was closed to the public and reserved for children with special needs and their families to come enjoy all Zoo Lights has to offer with accomodations made for those who face sensory-processing difficulties.
In total, Dream Night saw 1,296 visitors. There were over 500 children and their families as well as volunteers. The night consisted of dancing, hot chocolate and snacks, and good family fun.
One mother shared, ""This was exactly what my family needed," she said. "We could never have come on a regular night but my son could do it this way."
This exclusive evening was hosted in partnership with TARC, Capper Foundation, Loving Hearts, Family Service and Guidance Center, with help from US Foods, 2 Chefs Catering, and SayCheez Photobooth and performances
by Ballet Midwest. It would not be possible without Blue Cross & Blue Sheild of Kansas, CAS Constructors LLC, and MPC Group!
The tradition of Dream Night was started in 1996 at the Rotterham Zoo in the Netherlands by animal keeper, Peter van der Wulp when he noticed families of children diagnosed with cancer often had other expenses to meet and were unable to find free time to visit and feared the stigma that surrounded their condition. The Rotterham zoo created an event where these children and their families were able to visit the zoo and have a fun, relaxing evening. The event has spread around the world since then and now makes its way to the Topeka Zoo.