Santa's Reindeer Land at Topeka Zoo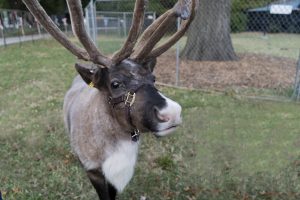 Topeka, KAN- The Topeka Zoo is excited to host some special guests straight from the North Pole. Santa's Reindeer will be here Monday, November 15 at 3 p.m. We will be joined by Yeti the reindeer. Everest the reindeer had a bit of a mixup in his flight schedule from the North Pole; they are reindeer-in-training after all!
Below are some fun facts about reindeer:
REINDEER CAN MAKE MUSIC?
The click-clack you hear when reindeer walk is the sound of a tendon in their ankle rubbing over a bone. This sound helps the reindeer keep track of each other while walking in heavy snow.
THEY CAN'T FLY, BUT THEY CAN SWIM!
Reindeer coats are very buoyant, making them excellent swimmers. They swim far, sometimes over a mile. They can also swim fast: three times faster than the average human. That just so happens to be Olympic Swimmer, Michael Phelps' top speed, too!
YOU WOULD EVEN SAY IT GLOWS!
It might seem like the stuff from cartoons, but reindeer really do have red noses like Rudolph! Reindeer are the only species with hair covering their entire nose, heating up the air they breathe in so they don't get cold.
HORNS OR ANTLERS?
As the name suggests, reindeer are a species of deer. They are the only deer species in which both the male and female can grow antlers. In fact, male antlers can grow up to a whopping 1.4 meters in length and have as many as 44 points, called "tines". Males drop their antlers in the fall, while females drop their antlers in the spring.