TOPEKA ZOO ASKS GUESTS TO PURCHASE ZOO LIGHTS TICKETS IN ADVANCE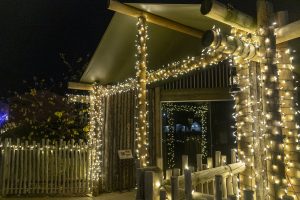 Topeka, KAN-The first two weeks of Zoo Lights has turned out to be a success. In order to keep the event running as smoothly as possible, Zoo officials are asking that guests purchase tickets to Zoo Lights online in advance for designated times.
"Last year was the first time we asked people to purchase tickets in advance due to capacity limits resulting from the pandemic," said Zoo Director Brendan Wiley. "This year we still have capacity limits. We only sell a certain number of tickets each half hour based on maintaining a high level of experience for Zoo Lights attendees."
Last weekend the Zoo saw a number of Zoo Lights time slots sell out. They worry that with another promising forecast, this week could sell out even faster.
"The last thing in the world we want to do is to turn a family with young children away because we are sold out," said Wiley. "Zoo Lights is magical. The best way for a person to experience the magic and insure that they can attend on the night they want is to get their tickets ahead of time."
New this year, the Zoo will be introducing "Mask Mondays." Masks are encouraged every night but every Monday, everyone will be required to mask up. This night is ideal for those who are immunocompromised or those who simply prefer to take a little extra precautions when out and about.
Tickets can be purchased online at TopekaZoo.org/ZooLights. Tickets will be sold in 30-minute intervals, guests are not limited to time once inside the event, and can enjoy the many festivities with friends and family.