TOPEKA ZOO PARTERS WITH LOCAL NOTO ARTIST FOR ZOO LIGHTS DISPLAYS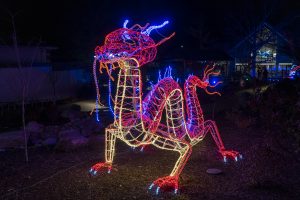 Topeka, KAN- The Topeka Zoo is partnering with Ptr (Pronounced "Peter") Sponseller to create unique works of art to be displayed during the annual holiday event, Zoo Lights.
Sponseller is a local artist with a studio in the NOTO Arts District under the name Clover GEAR Reclaimed Art that specializes in reusing and hand- bending various materials to create works of art. He created four designs that referenced concepts familiar in the Kay McFarland Japanese Garden to turn them into fully lit, 3D works of art. The art is exclusive to Zoo Lights and is in the process of being installed.
"I first met Ptr when he created a sculpture of a lion to be auctioned off to benefit the Zoo during the Roar & Pour Wine Fest auction in 2019," "says Jared Bednar, Director of Administration and Creative. "His process of reusing materials others might see as waste and turning it into unique works of art blends well with the Zoo's mission to promote conservation."
Guests are invited to visit the Kay McFarland Japanese Garden during regular zoo hours to see the current progress. Sponseller's work will be fully displayed and lighted for the first time when Zoo Lights opens on November 19.
Zoo Lights ticketing goes live Monday, November 1. Tickets can be purchased on the website. For those still in the Halloween spirit, the final Boo at the Zoo will take place Saturday, October 30 from 9 a.m. to 3 p.m.