Topeka Zoo High School EcoClub Launches Conservation Art Contest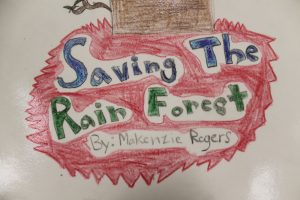 Topeka, KAN- The Topeka Zoo is opening submissions for its annual conservation writing competition and introducing a new art contest. The new art competition is coordinated by the Topeka Zoo's High School EcoClub and is supported by a grant from the Topeka Youth Commission.
Co-president, KayLynn Hall says, "We wanted to use the money we earned from a Topeka Youth Commission grant for this contest, because we love the idea of keeping things local—in order to keep generations and art growing in our community."
Participants are asked to write a story or produce a piece of art to raise awareness about a real-life conservation issue such as habitat loss, poaching, climate change, threatened and endangered species and more. "This art competition represents our desire to engage Topeka youth with their passions and inspire young artists to pursue a future filled with creativity and an appreciation for their environment," said EcoClub copresident, Sophia Friess.
All those who enter will receive FREE entry to the Zoo on Earth Day, April 23, 2022. There are five different age categories and a winner will be selected from each group. Even adults can participate! The winning selections will be on display for Earth Day, as well as for Roar and Pour Wine Fest on April 30. The deadline for submissions is March 27. There is no minimum or maximum page requirement for the writing contest, and stories can include illustrations, comics, or pictures. Art pieces can be in any medium, but Zoo officials ask that they not exceed 2 feet by 2 feet in size.
Those interested can visit https://topekazoo.org/competition/ for more information about prizes and how to enter. For comment, contact education@topekazoo.org or call 785-368-9137.