Topeka Zoo Partners With Helping Hands Humane Society to Celebrate Birthdays of Two Big Stars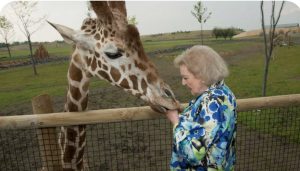 Topeka, KAN- The Topeka Zoo is partnering with Helping Hands Humane Society to celebrate Betty White's one hundredth birthday and Sarge the Giraffe's tenth birthday. Supporters of the two big stars can help, too! For every brick purchased now through January 23, the Topeka Zoo will donate $5 to Helping Hands in Betty White's name. The bricks will line the path to the new giraffe barn and habitat opening this summer at the Topeka Zoo.
Betty White was known for being an animal lover, dedicating much of her adult life to working for animal right organizations. The "Betty White Challenge," as it was coined on social media, encourages people to donate to animal organizations in her name.
"While our hearts are all breaking over the loss of dear Betty White, we are honored to get to carry her legacy by continuing to provide compassionate care to homeless companion animals in the Topeka and Shawnee County Area," says Grace Clinton, Director of Business Development and Special Events at the Helping Hands Humane Society. "We are thrilled that the Zoo has offered to partner with us for the Betty White Challenge and we hope to raise dollars here locally to help both Sarge and the giraffes as well as the animals here at HHHS."
Those looking to make a difference can visit the Topeka Zoo website at TopekaZoo.org. On the homepage, there is a link that will direct to the page to purchase the customized bricks.
"We are grateful for this partnership because our work at the Zoo revolves around caring for exotic and endangered species. Then, many of us return home to cuddle with our own fur babies." says Jared Bednar, Director of Administration and Creative. "My own dog is a rescue, so I am grateful for the work of organizations like Helping Hands Humane Society. "