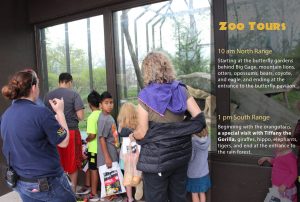 Every Monday and Friday, 10 am and 1 pm journey with us on a guided tour around the Zoo. These 45 minute, docent-led tours are an exciting, education filled experience.
The 10 am tour will cover the north range, starting at the butterfly gardens behind Big Gage, mountain lions, otters, opossums, bears, coyote, and eagle, and ending at the entrance to the butterfly pavilion.
The 1 pm tour will take place in the south range, beginning with the orangutans, a special visit with Tiffany the Gorilla, giraffes, hippo, elephants, tigers, and end at the entrance to the rain forest.
With construction in full swing now on the zoos Camp Cowabunga experience, the Disappearing Apes building where Tiffany lives is no longer open for visiting Tiffany until 2018.  To give the community and Tiffany the opportunity to visit each other weekly, the zoo will begin a Gorilla guided walk to visit Tiffany behind the scenes each Saturday morning at 10:30 AM.  

Take advantage of these tours while we build our new African Safari themed exhibit, Camp Cowabunga!