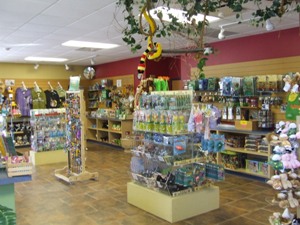 The Leopard Spot Gift Shop, located inside the Topeka Zoo, is open from 9 a.m. to 5 p.m. every day the Zoo is open.
Need upcoming gift ideas for that special someone? The gift shop offers a variety of animal-themed items for the young and the young at heart, including Topeka Zoo T-shirts, Schleich animals, stuffed toys, commemorative holiday ornaments, puzzles, nature scopes, posters, postcards, mugs, games, zoo magazines, and educational toys. Some products are even available online here.
Friends of the Topeka Zoo members receive a 10% discount on all in-store gift shop purchases. Leopard Spot gift certificates are available too!