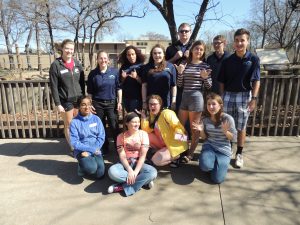 As a Topeka Zoo Youth Advisory Council member, you are a role model to other youth who want to be leaders in their communities, just like you. This is an opportunity and a challenge to practice important leadership skills, and to guide and inspire other future leaders. The example that you set, through your motivation, your energy, and your commitment, will affect not only your fellow Topeka Zoo Youth Advisory Council members, but also our engagement with youth around the community.
Some of the skills and expectations are:
Be ambassadors of service
Council members are required to attend regular meetings, as outlined in the Topeka Zoo Youth Advisory Council Agreement.
Council members are encouraged to keep in touch with each other, and to provide encouragement and support.
Communicate with the Council Supervisor, and other appropriate parties on a regular basis.
Shawnee County residents in grades 8th (in second semester) through 12 are eligible.  We are now accepting applications for the 2018 Youth Council.  Download an application here.
Return your application and letter of recommendation to: Friends of the Topeka Zoo Attn: Elena Blum, 635 SW Gage Blvd., Topeka, KS 66606 or elenab@fotz.org.  For more information, call 785-368-0172 or visit www.facebook.com/topekazooyouth.
We believe what we do changes the world. Every choice we make saves the planet.  Join us today!