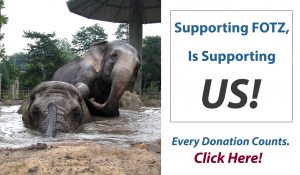 The Topeka Zoo and Conservation Center works off of a limited budget each year and we also like to recycle items. Before you throw some of your still usable items away, or if you want to donate to your local Zoo, please read through the following list of things we are in need of. Any items may be dropped off at the front gate or in the gift shop. If you have larger items please call 368-9180 to get them approved before bringing them in.
We always accept monetary donations as well through our Friends of the Zoo Organization. Please click here to donate online.
Some things to keep in mind:
Food items must be in date
Food items must be unopened
In all cases, we prefer food items that are sugar free, lower sodium or no salt, etc in order to keep the animal diets balanced correctly.
Topeka Zoo Donation List
Non-Food Items:
Refrigerators – full size
Refrigerators – dorm size
Doe, fox, raccoon, etc. urine (can be purchased at sporting goods section in stores)
Perfume (any kind is acceptable)
Paint – non-toxic Tempra or Acrylic (can be found at any craft store)
Paint brushes – Wood handles only
Canvas panels
Kids bubble bath and fun foam (orangutans LOVE bubblebath!)
Concrete bird bath tops (cats use them for food bowls)
Rabbit chews, parrot toys, toys for guinea pigs, rabbits, etc.
Assorted hardware – screws, nuts, bolts, 'S' hooks, etc. for keeper staff to make enrichment items
Boxes of green moss, Spanish moss, bales of peat moss, orchid bark
Chains ( used to hang large objects like street sweeper brushes in exhibits)
50 to 75 foot garden hoses – heavy duty, kink free, commercial or industrial strength preferred
Sturdy kitchen/angle brooms, long handled scrub brushes
Zip strips/zip ties – assorted sizes in black or white/transluscent and various lengths
Dixie cups
Rock bowls for water or food bowls of various sizes and depths (found at pet stores)
PVC Pipe
Paper bags – Lunch and Grocery Size
Cloth towels
Sheets
Pillowcases
Silk plant material
Heavy rope
Gift Certificates to Dillons
Gift Certificates to Hyvee
Gift Certificates to Orscheln
Gift Certificates to PetCo
Gift Certificates to Walmart
Gift Certificates to Home Depot
Gift Certificates to Lowes
Gift Certificates to Westlake Hardware
Monetary donations to be used to purchase boomer balls, amazing grazers, and specially designed, industrial strength toys for the animals.
Food items:
Oatmeal – regular or flavored oatmeal (low sugar and sodium)
Jello
Cereal – cheerios, boxed rice cereal, puffed wheat, grape nuts,
bran/corn/rice flakes, rice krispies, raisin bran, etc.
Baby food – meat flavored for cats and Stage II fruit flavored for the rest of the animals
Ice cream cones (just the cones please)
Hot dog buns
Cornbread mixes
Granola or granola bars or dried fruits or trail mixes
Raisins, craisins, dates, prunes, currants  (pitted)
Oyster crackers, saltines (low sodium), goldfish crackers, animal crackers, teddy grahams, rice cakes, etc.
Broth – beef or chicken (low sodium)
Canned tuna and salmon in water
Coconut whole or shredded
Jam, BBQ sauce, salad dressing (low fat), mustard, ketchup, relish
Pretzels – sticks, chunks, or traditional (low sodium please)
Juices – V8, 100% juice, frozen concentrate
Powdered Gatorade (fruit punch)
Cake mixes – carrot, angelfood
Popcorn – unpopped kernels (not microwaveable… although keepers would enjoy that)
Spaghetti sauce
Fruit by the foot, gushers, fruit snacks
Pudding – vanilla or tapioca (low fat/sugar) or tapioca in a box
Honey
Frozen veggies and berries, fruits
Canned pumpkin
Pickles
Applesauce, dehydrated fruit
Peanut butter
Peppermint patties (for elephants) or horse peppermint treats
Popsicles – in plastic tubes that we can freeze (Pop Ice or Otterpop type)
All donations can be dropped off at the Leopard Spot Gift Shop.  Checks can be mailed to the address below:
Friends of the Topeka Zoo
Animal Enrichment
635 Gage Boulevard
Topeka, Kansas  66606
The Topeka Zoo strives to provide a stimulating environment for our animals with an opportunity to engage in natural behaviors through the use of a variety of enrichment for our animal collection.  Some of our enrichment includes:
Food
Varied use of daily food items and treats are the most common form of enrichment.  Keepers will often hide food enrichment throughout the animal exhibits or prepare it in a way that will stimulate various behaviors such as foraging and stalking.  Live fish swimming in a pool, cereal hidden amongst a leaf pile, honey dabbed on a tree, mealworms and crickets wiggling inside a hollow log and product frozen in blocks of ice are just a few examples of food enrichment.
Scents
Scents encourage the animals to explore their "territory" to smell who or what has been in their area and in some cases mark the area themselves. Animals will often rub on or roll in the scented area.  Scents vary from perfumes to spices to natural scents of other animals and are scattered throughout an exhibit, placed inside toys, boxes, and bags. Typical behaviors such as stalking and foraging are encouraged with the addition of scents.
Visual/Auditory
New sights and sounds can be enriching even if they are placed outside the animal's enclosure. In addition to providing variety in their day, sights and sounds may elicit other natural behaviors like stalking, vigilance and exploring.  The Topeka Zoo utilizes various animal sound CDs as part of the enrichment of some species.  In addition, some animals, particularly the elephants, enjoy creating auditory stimulation through the use of various musical instruments.
Artificial Objects
The zoo animals love toys and it is not uncommon to see some of the animals playing with their industrial strength toys.  Boomer balls, PVC piping, barrels, and puzzle feeders are all used to encourage activity.  Some toys roll, some hang in the trees, some float, and some have holes that are drilled throughout to allow treats to be placed inside.  When manipulated, the treats fall out.
Tactile
Many of our animals enjoy the addition of various textures to their exhibit and daily routine.  Ice, snow, pools, bubble bath, paint, streams, branches, leaves, dirt, shredded paper, hay and straw are just a few items used for tactile stimuli.  Behaviors frequently seen from the use of tactile enrichment include nesting, bathing, and denning.
Browse
Many of the zoos residents enjoy the addition of edible plants, trees, vines and flowers to their exhibit.  Keepers are continually seeking ways to change the landscape within an exhibit to help enhance the animal's environment and stimulate activity.