Would you like to join the team at the Topeka Zoo and Friends of the Topeka Zoo?
There are many types of positions that work together to make a zoo run well.
Any positions in guest services, gift shop, membership, and concessions will be posted below under "Current Employment Opportunities." Any animal care, animal health, and horticulture positions will be posted on the City of Topeka's website: Click here to go there now
Current Employment Opportunities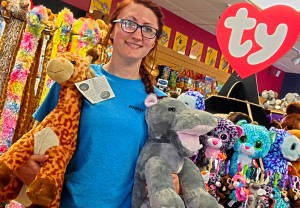 The Marketing and Graphic Design Specialist serves a key role in the marketing and graphic design efforts of FOTZ and the Topeka Zoo through promotions, design, and communications for the Zoo's mission, fundraising events, and more.  This person will also actively seek ways to promote key programs that fulfill the Zoo's mission and seeks to market FOTZ to current and potential members and donors. Qualified candidates should submit their resume along with salary requirements to katel@fotz.org or mail to Friends of the Topeka Zoo, 635 SW Gage Boulevard, Topeka, KS 66606.
Friends of the Topeka Zoo is currently seeking an enthusiastic and dynamic individual to join our fast paced team as a Guest Service Ambassador.  The Guest Service Ambassador works as part of our Guest Services Team including Admissions, Concessions/Catering, Environmental Services, and the Leopard Spot Gift Shop.

This is an entry level position and training will be available. Applicants should submit an online application here. For any inquiries, please email to guestservices@fotz.org.