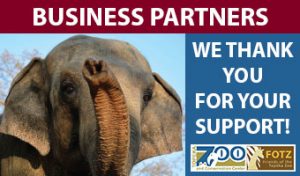 The Topeka Zoo and Conservation Center is the most visited gated attraction in northeast Kansas with nearly 200,000 visitors every year. It is a cherished community resource and has become integral to the quality of life in our community. It is a place where nature is at its wildest and most exotic and provides an environment for teaching people about the world of animals in a setting that is bursting with life and natural beauty.
Our Business Partnerships have been created to assist businesses in achieving marketing goals including increased traffic, sales, and brand awareness to specific target audiences. By becoming a Business Partner of the Topeka Zoo and Conservation Center, the corporation and its employees, enjoy benefits such as discounts, complimentary tickets, year-round recognition, and invitations to special events.
In return, the company's support provides the Topeka Zoo and Conservation Center a philanthropic gift that will allow us to offer amazing animal experiences, educational opportunities, and to support critical conservation efforts locally and around the world. This is an opportunity to engage and inspire people with the wonder of animals and nature.
If you are interested in learning more about our business partnerships, sponsorships for events, or upcoming capital projects, contact Shelby Revelle, Fundraising/Development Specialist at 785-368-9133 or shelbyr@fotz.org.
---
We would like to thank the business partners who have already made a commitment with the Topeka Zoo and Conservation Center.  We greatly appreciate their continued support, and look forward to these partnership commitments.