Friends of the Topeka Zoo is currently seeking 100 small businesses interested in Joining Our Herd. An annual membership fee of $250 will allow you membership to the herd and a host of benefits including: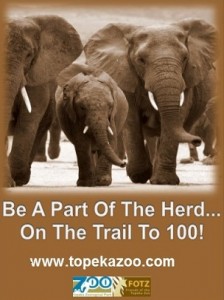 SIGNAGE.  Name recognition on the "We're A Part Of The Herd" Signage that will be displayed at the entrance to the Pachy Play Yard – a children's play destination for the summer and future location of the zoos expanded elephant exhibit.
BANNER PLACEMENT from May through September along the Pachyderm Parkway.  Guests will trek along this train to reach the Pachy Play Yard.  (Banner provided by herd member)
ADDED BENEFIT FOR YOUR EMPLOYEES.  As a member, your employees will receive a 10% discount in the purchase of a Friends of the Topeka Zoo membership.  (Employee must show proof of employment)
NAME RECOGNITION in the Fall Zooreka Magazine that is distributed to over 5,000 membership households.
TWO TICKETS TO "BREAKFAST WITH THE HERD" which will include breakfast with Tembo and Sunda, the Topeka Zoo's resident elephants and a behind the scene tour of the zoo!  Note:  We must reach our goal of 100 Herd Members in order to do this activity!
BRANDING!  Through increased visibility your company will stand out and make a meaningful connection with the public.
PARTNERSHIP.  Funds generated through your membership will allow the Topeka Zoo to further it's mission of enriching the community through wildlife education and conservation.
OUR Visitors Are YOUR Employees and Customers  By partnering with the Topeka Zoo, YOU will benefit as well as the Topeka Zoo AND the Community!  It's a Win – Win For EVERYONE!
To Join Our Herd, complete the registration form and return to:
Friends of the Topeka Zoo
635 Gage Boulevard
Topeka, Kansas 66606
Questions?  Contact your Friends of the Topeka Zoo at 272-7595.