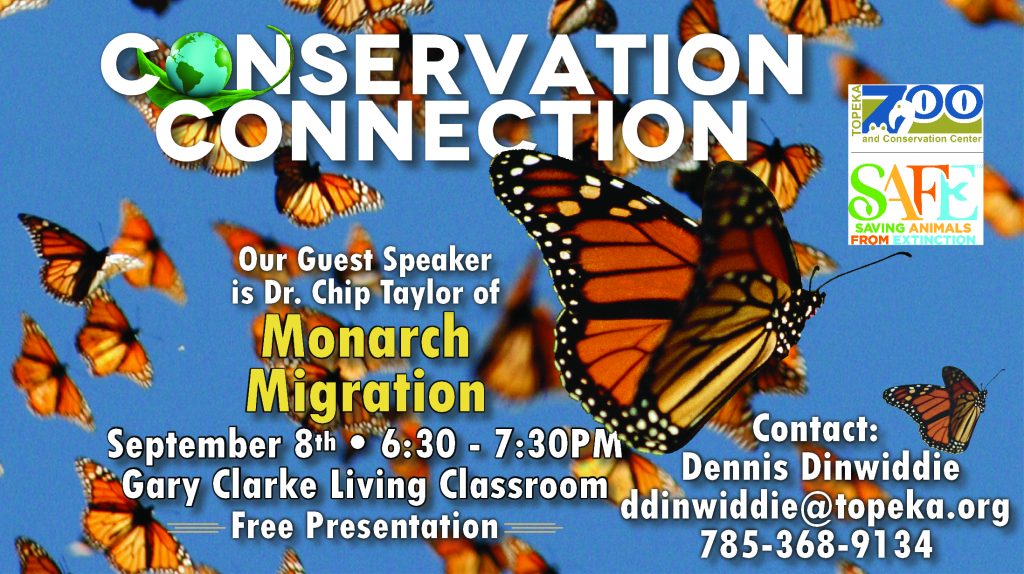 Those big, beautiful, orange butterflies are on their way back to Topeka! Monarch butterflies, the longest migrating butterfly on the North American continent are on their way south to their wintering grounds in Mexico. Millions of them will make the migration from as far north as the southern parts of Canada and as always, many of them will fly through Topeka and Shawnee County on their southbound migration. Once they all arrive in the mountains of Central Mexico, they will wait out the winter until conditions are favorable for a return migration in the spring.
The Topeka Zoo will host an evening with Dr. Chip Taylor, Founder and Director of Operation Monarch Watch, an international outreach program focused on education, research and conservation relative to monarch butterflies. Dr. Taylor's presentation on September 8th will occur only days before the main body of the monarch migration reaches the Topeka area on their way to Mexico.
Join the zoo to learn more about these amazing butterflies and their incredible journey from one of America's foremost experts on the Monarch butterfly and their migration. Each guest will receive a "seed ball", filled with soil, compost, clay, milkweed and native wild flower seed ready to be planted to promote growth of milkweed and flowers so vital to the survival of this species.
Dr. Taylor's presentation will be conducted at the Topeka Zoo on Thursday, September 8th, 6:30-7:30 PM. Gates to the zoo open at 6:15 PM for admission.
Admission to the zoo is FREE to the public for this event!
For questions or additional information, contact Dennis Dinwiddie at ddinwiddie@topeka.org, or 785-368-9134.
>>To learn more about the Zoo's Monarch conservation efforts, click here.