Friends of the Topeka Zoo will be participating in this year's #GivingTuesday while throwing in a wildly exciting twist! In case you haven't heard, the goal of #GivingTuesday is to create a global day of giving back which celebrates generosity and kindness. The day itself falls on the Tuesday following Thanksgiving each year. #GivingTuesday for 2015 is December 1st.
Giving ZOOday is a partnership with Giving Tuesday.  Giving ZOOday is about the impact zoos and aquariums have on their communities by engaging visitors to be stewards of the environment and help save species from extinction. It's also about how these institutions give back by mentoring their staff and volunteers to support a wide range of causes.
It can be easy (and fun) to get caught up in the consumerism of the holiday season with days and sales like Black Friday, Small Business Saturday, and Cyber Monday. Prior to the start of these days we have a day for giving thanks. On Giving Tuesday there is one common idea of the day, that is to celebrate generosity and to give to the non-profit organizations that are special to you and your family.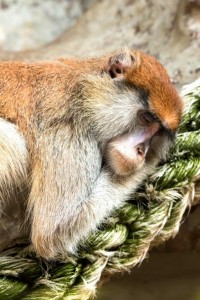 Friends of the Topeka Zoo has a goal of raising $10,000 in just 24 hours, and we really hope you'll be a part of reaching that goal! All of the donations received will go towards acquiring Red Patas Monkeys to be part of the Topeka Zoo's Camp Cowabunga exhibit.
Unable to donate on Giving ZOOday? You can donate today. Friends of the Topeka Zoo is a 501(c)(3) non-profit organization and is dedicated to serving the Topeka Zoo through providing financial support for education, conservation, animal enrichment, staff training, and more. This support would not happen without the generous contributions from supporters like you.