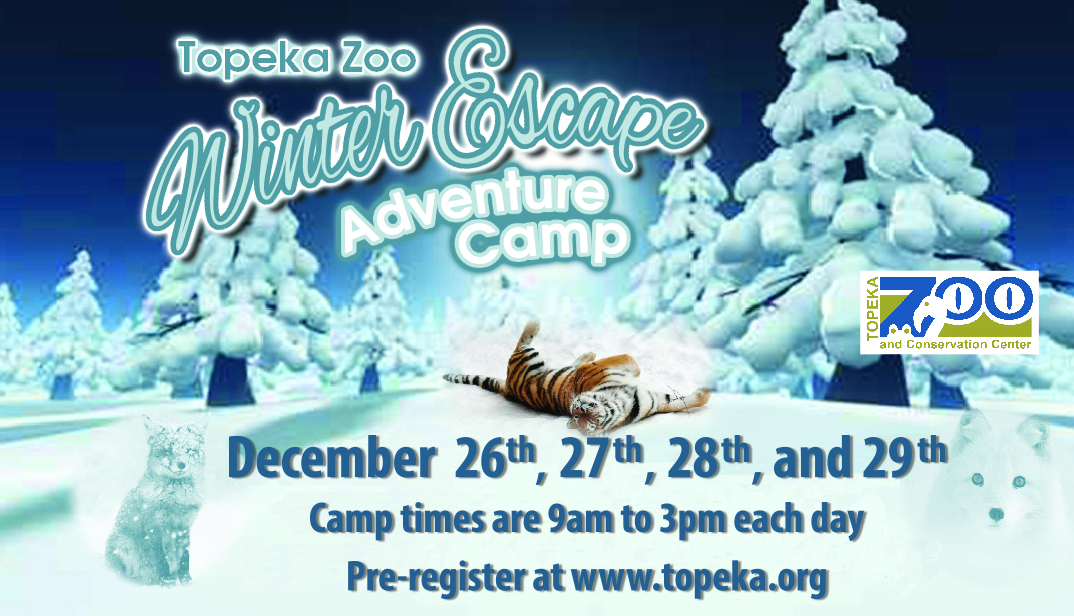 The Topeka Zoo is excited to offer Winter Escape Adventure Camp!
This camp is geared toward children ages 6-12, and registration is on a DAILY basis—so you can sign up for as many days as you'd like. The 2017 dates and themes are listed below.
Tuesday, December 26th: The Beauty of Winter: From snowflakes to snowmen, ice blue landscapes to white winter fur, this day of camp will use art to showcase the beauty of the winter season.
Wednesday, December 27th: Happy Feet: From dancing penguins to majestic whales, join us for this camp as we learn all about winter on the other side of the equator.
Thursday, December 28th: Winter Olympics: This camp will win the gold, as we meet some of the greatest animal athletes who thrive in the cold!
Friday, December 29th: Holiday Hitsss: This camp is bound to be a hit, as we put a new animal spin on some classic holiday songs!
---
Camp will run from 9:00-3:00 and will be held mainly in the Gary Clarke Education Room. Each camp day will include a live animal education program, behind-the-scenes tour, crafts, games, and more! Campers are to bring their own lunch; afternoon snacks will be provided each day. There is no stay-late option for this camp.
The cost is $55/day for FOTZ members and $65/day for non-members. Registration will open on Monday, October 23, at 9:00am.
Cancellations:  If you cancel your camp registration 8 or more days before the start date, the Zoo will refund the registration fee, except for $10. This fee is applied per child per day you cancel. The Zoo will not refund any registration fees if cancellation occurs within 7 days of the start date. If space is still available, you may transfer your registration to another camp day for no additional fee. If transferring, it must be to a camp within the same calendar year.
Please call 785-368-9137 for more information. You can sign up for one or multiple days of camp at a time; payment required to secure registration.
KDHE Forms
These forms are required to be completed by the morning of the first day of camp (before you drop your child off), otherwise your child cannot attend camp until we have the following paperwork. These are kept on file for an entire calendar year–so you only need to fill them out once per camp year. Thus, if your child attended spring break or summer camp at the zoo in 2017, you do NOT need to refill out these forms.
Health History Form –> Required for ALL children. Immunization records are not required if your child attended school in Kansas, Missouri, or Oklahoma this year. Immunization records are required if they did not attend public/private school or attended in another state other than KS, MO, or OK. Please note that this form has to be completed in its entirety. We need all names and street addresses where it asks for them (street intersections do not work). If none of the boxes at the top of page 2 are applicable, please write "NA" in each box.
Authorization for Emergency Medical Care –> Required for ALL children. You do not need a notary if you have someone else witness your signature and sign as well. Please note, health insurance information is required at the bottom. If your child does not have any allergies, please write "NA" on that line.
The following two forms are only required for children who bring medication, EpiPens, inhalers, etc to camp. You will only choose one of the following.
Authorization for Self-Administration of Medication –> Please fill this out if you have a child who will be dispensing their own medications while at camp–including medicine, EpiPens, inhalers, etc. This means that camp counselors do not carry around these items and the camper is responsible for dispensing medication to themselves. You do NOT need it signed by a licensed physician or nurse practitioner.
Authorization for Dispensing Medications to Children –> Please fill this out if you have a child who wishes to have camp staff dispense medication to them. This includes having counselors carry around EpiPens, inhalers, medicines, etc and having the staff dispense it as needed.
You may email completed forms to RRost@Topeka.org before camp starts or may bring them to the first day of camp your child attends this year. Please contact 785-368-9137 with questions.
Thinking about a membership? If you are signing up for at least camps, a family FOTZ membership pays for itself! Click here to learn more about the benefits of becoming a member or sign up today.
Camp Registration is now open!