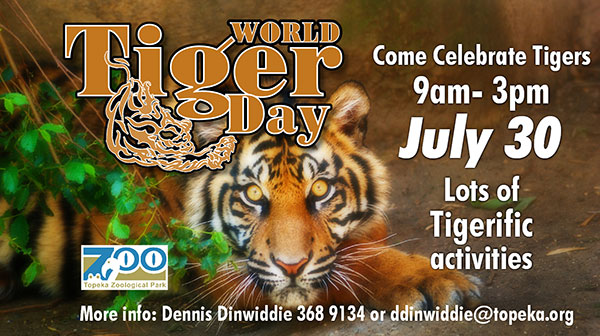 On Saturday, July 30, the Topeka Zoo will join zoos around the world in celebrating World Tiger Day with an event at the zoo from 9 am – 3 pm.  The Topeka Zoo has five Sumatran tigers in its collection, including three tiger cubs born at the Topeka Zoo in May 2014.  While there are only five kinds of tigers still surviving in the wild, Sumatran tigers like those found at your Topeka Zoo, have fewer than 400 individuals left alive in their native range.  Individuals from all five species combined, number fewer than 3,900 tigers still surviving in the wild.
The World Tiger Day celebration at Your Topeka Zoo will include:
Keeper chats at the tigers' viewing windows
Enrichment activities at the tiger exhibit
A booth for kids of all ages to make and wear tiger hats
Tiger face painting
and a booth from 1:00-3:00 in which Zoo Vet Staff will perform a medical check-up on your child's stuffed tiger or cat of any species
Please join your Topeka Zoo on July 30 for World Tiger Day to celebrate the world's tigers, and explore their futures.
For questions or additional information, please contact Dennis Dinwiddie at 785-368-9134.