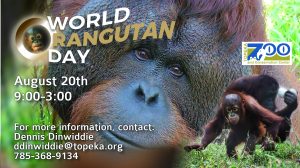 The Topeka Zoo would like to invite you to join them for Orangutan Awareness Day, Saturday, August 20th, 2016, as the zoo joins other zoos' around the globe to celebrate our world's wild orangutans. Orangutan Awareness Day will offer special activities throughout the day with information on these critically endangered animals and their lives in the wild. Activities will include keeper chats at 10:00 am, 12:00 noon, and 2:00 pm, orangutan treats and enrichment activities for guests to watch at 3:00 pm, crafts for kids, and an orangutan nest for your kids to climb into for a photo-op.
A leading cause for the critically endangered status of the world's orangutans is that rain forest is being clear cut to provide space for palm oil plantations. While oil of palm is found in over 50% of all house hold items and food, oil of palm can be produced in a sustainable manner and many companies excel at doing so. On World Orangutan Day, if you bring a can or box of food that is palm oil free, or has been produced using sustainably grown palm oil, you will receive a $1.00 reduction in entry fee for the zoo for each person who brings a palm oil friendly food item to donate. All food items donated will be given to Harvesters Community Food Network.
Guests can determine if their food donation is palm oil friendly simply by doing a search for RSPO, which stands for Roundtable on Sustainable Palm Oil, and view palm oil friendly food companies and items.
Join us for fun and education throughout the day as we go ape over orangutans. Bring in your palm oil friendly food donation for your discounted entry fee and join the fun! For information or questions please contact Dennis Dinwiddie at the Zoo's Education and Conservation office at 368-9134.