The Topeka Zoo will join zoos around the world on Saturday, June 18th as we celebrate World Giraffe Day. The longest day of each year is in June.  So the world celebrates World Giraffe Day in June so the animal with the longest legs and the longest neck will have the longest day of the year as its day of recognition.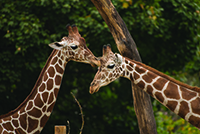 Giraffes survive today in only 21 of the 56 African nations. Giraffe numbers across Africa have declined by approximately 40% in the last 15 years. Reticulated giraffes, like those found at your Topeka Zoo, have declined by 80% in the last fifteen years with only 8,600 individuals left in the wild today.  This makes them among the most endangered giraffes in Africa. With such dramatic losses in numbers to all nine kinds of giraffes across Africa, zoos around the world will stick their neck out for giraffes this month for World Giraffe Day.
The Topeka Zoo & Conservation Center will celebrate World Giraffe Day on Saturday, June 18th, 9:00-3:00. Zoo guests can experience feeding a giraffe at 11:00 AM, see a keeper chat with one of the giraffe's zoo keepers at 2:00 PM, and experience an enrichment activity at 3:00 PM in which guests can help prepare treats for the zoo's three giraffes.
A giraffe craft table will be available for making giraffe hats for kids of all ages, and the zoo's face painter will be painting giraffe patterns on faces for kids of all ages.
Make your voice heard for giraffes! Join your Topeka Zoo for World Giraffe Day on Saturday, June 18th, 9:00-3:00.
For questions or for more information, contact Dennis Dinwiddie at
ddinwiddie@topeka.org
, or 785-368-9134.