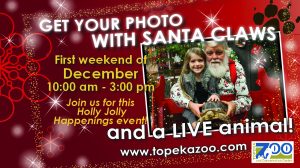 Like the song says, "Santa Claus is coming to town". In this case it will be Santa Claws!
The Topeka Zoo invites you to have your photograph taken with Santa Claws and a live animal for the coming holiday season. Santa will do his annual preseason visit to the Topeka Zoo, where he will be available for photographs with guests on his sleigh, in the Big Gage Shelter House. Santa will be at the zoo for photographs on Saturday, December 2 and Sunday, December 3, 2017, from 10:00-3:00. A variety of live animals will be available for you to choose from to appear in the photo with you and Santa if you wish. Photos with Santa will be taken by a professional area photographer!
Cost for your photo with Santa and a live animal is only $5.00 per person who sits with Santa. One hundred percent of proceeds from the photo with Santa event go to support the zoo's conservation efforts locally and around the globe.  Photos will be sent to you by e-mail for your use.
So join the Topeka Zoo for your photo with Santa. Bring the family and create your one of a kind holiday greeting card with Santa and a live animal!
For questions on photos with Santa please call 785-368-9137.