Friends of the Topeka Zoo – Take Your Best Shot Photography Contest Rules 2017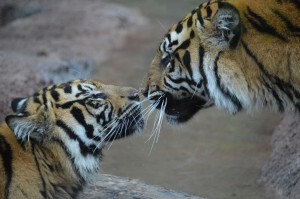 With more than 300 animals, your Topeka Zoo is a photographer's paradise! From wild animals to the colorful landscape, choices abound for that perfect picture. Now, you can showcase your talents by submitting your favorite photo in the Friends of the Topeka Zoo Photography Contest! Take Your Best Shot and support your Topeka Zoo and Conservation Center!
Photo Categories
Under 18 (ages 5-17)
Animal Action
Animal Portrait
Animal Group
Black and White
Landscape/Horticulture
Professional (30%+ of annual income comes from photography)
How To Enter
Photo must be taken at the Topeka Zoo and Conservation Center and not be more than one year old by the contest deadline August 1, 2017.
Photo must be 300 dpi and saved as a jpeg or tiff file.
All entries will be submitted electronically to the Friends of the Topeka Zoo office at the Topeka Zoo.  All entries must be received by 5 p.m. on August 1, 2017.
All entries will become the property of Friends of the Topeka Zoo.
Only 2 submissions per category
Submission Options
Option 1: Email entries to fotz@fotz.org.  Due to file size, you may want to upload your photos to a file sharing program (like dropbox) and send a link where the photos can be downloaded.
Option 2: Drop off a flash drive with your photos in the Leopard Spot Gift Shop at the Zoo on or before August 1, 2017.  Please include a document on the flash drive with your contact information and photo names and categories.
With your entries, you must include one copy of the photo release form that includes your name, address, phone number, email and signature.  In addition, with your entries, you must include a list of the image names and the photo entry category for each one. 
By submitting photos, you understand and agree that Friends of the Topeka Zoo will retain the photos, and that Friends of the Topeka Zoo retains the right to use select contest entries for publication, website, educational or promotional use. In addition, copies of the entries may be sold with 100% of the proceeds benefiting your Topeka Zoo or Topeka Zoo Conservation Efforts.
Other Rules
Please do not digitally enhance or alter your photographs (beyond the basics needed to achieve realistic color balance and sharpness). Cropping, dodging and burning, color saturation and changing to black and white are acceptable. Anything beyond these changes will not be accepted.
If someone under the age of 18 chooses to enter their submission into an adult category, she/he may do so.
Zoo and FOTZ staff entries are not eligible for prizes.
Judging of Photography Contest
Entries will be reviewed on originality, print quality, image impact, and composition. All eligible entries will be displayed on our Topeka Zoo facebook page August 7-18, 2017 for judging by the public.
All contestants can vote and share their photos via facebook during that time.  The entries with the most likes on facebook will be the winners.
One grand prize winner will be selected from all entries. In addition, 1st, 2nd, and 3rd place awards will be selected in each of the categories.
Contest winners will be notified electronically on or around August 23, 2017.
Prizes and Recognition
Grand Prize – Valued at over $200
The grand prize winner will receive all recognition benefits above. In addition, they will receive the following:
Guided photo safari at your Topeka Zoo!
1 year Friends of the Topeka Zoo Family Membership
$25 Gift Certificate to the Leopard Spot Gift Shop
$20 Gift Certificate to Grazer's Café
All winning entries will be published on the Topeka Zoo website for a year and promoted via social media.