Party for the Planet
                  Earth Day at your Topeka Zoo
What better way to celebrate Earth Day than with at a Party for the Planet, surrounded by some of the planet's most amazing and diverse wild animals?
Earth Day will be celebrated at your Topeka Zoo on Saturday, April 22 from 9:00-3:00.  With over thirty booths, including over two dozen from outside agencies, guests will find interactive educational stations spread throughout the zoo.  Booths will include exciting, informative and interactive activities for kids of all ages to join in on, enjoy, and learn from.  Keeper chats and live animal exhibits will be scheduled throughout the day.  Help support conservation work around the globe by connecting with wildlife, learning about nature, and becoming involved with protecting the future of our earth, at Party for the Planet at your Topeka Zoo.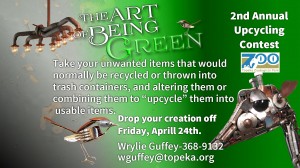 Annual Upcycle Contest
One of the 3 R's of being "green" is Reuse. You don't hear it as often as the other two R's (reduce and recycle) but we know that there are a lot of creative ways to reuse items or "upcycle" them into different, new items.
So… welcome to the Topeka Zoo Upcycle Contest! Will you take the challenge?
What is upcycling?
Upcycle verb [uhp-sahy-kuhl] reuse discarded items or materials in such a way as to create a product of a higher quality or value than the original.
For example: We upcycle at the zoo in a few ways. We take paper that has been only printed on one side and we cut it to size and then turn it into little notepads for us to keep notes on instead of using sticky notes. We also shred our paper that has been printed on both sides and use it for bedding or enrichment for some of the animals. Also, with your help, we send off hundreds of pounds of clothing items that are either worn out or stained and they are turned into other items such as insulation.
How do YOU transform items that you would otherwise throw out? Have you created or have an idea for a really cool new item or art piece that uses materials that you would otherwise throw away? Well now is the time to show it off and let others know that it can be done with a little bit of creativity. Start creating your piece today and submit it to our Upcycle Contest!
We want to show off as many items as we can on April 23rd at our Party for the Planet Earth Day event, however we have a limited amount of physical space for this so depending on participation, we will determine which submissions are shown at a later date. However, we will be showing every submission via a photograph on our Facebook page during or after the event.
Rules -We'll keep them short and sweet to keep your creative juices flowing!
1. Deadline –  The deadline to have your item completed and submission form turned in is Friday, April 15th. Do not bring your item to the zoo on this date. You should arrange for the item to be brought to the zoo on April 22nd and be available all day on April 23rd for the event. Items will need to be picked up after 3 on April 23rd or between 8 and 5 on April 24th unless other arrangements have been made with the contest coordinator before this date. If we are unable to exhibit all submissions, we will let you know before this date if you do not need to bring your submission in.
2. Approved materials – While you can use new items for your creation, the bulk or a major part of the item or piece must include a material that you would otherwise have sent to recycling or a landfill. When you turn in your work, you will also submit a form with it where you are able to explain every part of your submission and whether it is new, used, etc. For example, we understand that you may have to purchase something new (such as glue or other adhesive) but if you find a way to incorporate a used item where a new item was used (say, a used 2X4 from a house demolition instead of buying a new one) aim for that instead.
3. Judging – Submissions will be judged on creativity, the use of materials that would have otherwise been discarded and potential impact.
4. Complexity and Size – There are no guidelines for how simple or complex submissions have to be. We currently have no size limitations but the item should be transportable in some way so that it can be displayed at the zoo if it is selected. If you have ANY questions or concerns about this please contact the coordinator for this contest (wguffey@topeka.org).
5. Can you enter as a group? – You can submit as an individual or as a group. Maybe you have a group of friends that would like to turn a ton of plastic bottles into a large art piece. We encourage getting more people involved! However, if a group submission receives a prize, the prize will be designated to the group as a whole as we are unable to multiply prizes.
6. Age Rules – We have no age rules! We encourage people of all ages to participate!
Party for the Planet Booths/Activities provided by Topeka Zoo:

Endangered & Invasive species Plants
Live animal booth in front
Bird of Prey booth
Seed bomb booth
Keeper chats scheduled throughout the day
Eco-Club Zoo Poster Scavenger Hunt
Multiple exhibits on a variety of different environmental messages
Hand-outs  for guests involving
environmental messages

Party for the Planet Booths by Outside Agencies:

Friends of the KAW
Topeka/Shawnee Co Library
Kansas Fishing's Future
SN Co Master Gardner's
KSU Wildlife Society
National Park Service
Helping Hands Humane Society
Sierra Club
U.S. Fish and Wildlife Service
Green Point
NE Kansas Bee Keeper
Schendel Pest Control
U.S. Coast Guard
Face Painting
Audubon of Kansas
NE Kansas Wildlife Rescue
Ken Krief – KS Mussels
Good Energy Solutions
City of Greensburg
SN Co Recycling Dept
Topeka Metro Bike Project
SN Co Conservation District
KS Native Plant Society
Prairie Park Nature Center
SN Co Weed Department
KS Geological Survey
KS Department of Wildlife & Parks