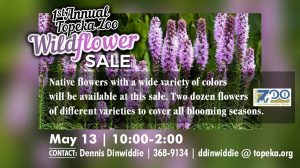 The Topeka Zoo is holding its first annual Native Wildflower Sale. On May 13th, 10:00-2:00, native flowers with a wide variety of colors and scents, will be available for sale at the Topeka Zoos first annual Native Wildflower Sale. The selection will also include flowers to cover all blooming seasons through spring, summer, and fall. There will be more than two dozen different varieties of amazing native wild flowers available at this sale. Native wild flowers are hardy and already adapted to our local soils and climate, and to our local pollinators! Once established, native wild flowers are care free and return to you every year with minimal or no maintenance for care. All plants sold will be native to this part of NE Kansas.
Sale location is the zoo's parking lot. No need to enter the zoo for the sale, just stop by the parking lot and depart with your flower garden ready to plant! 100% of proceeds from the sale will go to the zoo's conservation fund to support conservation of endangered species here at home and around the globe.
The wildflower sale will occur on the day before Mother's Day! So come to the zoo on May 13th, enjoy the zoo, and pick up some flowers for mom for Mother's Day as you leave the zoo.
For questions or more information, contact Dennis Dinwiddie at 368-9134, or ddinwiddie@topeka.org.
The flowers will include:
Spring bloomers:
• Common milkweed
• Rose verbena
• Blue wild indigo
• Spiderswort
• Large flower penstemon
• Foxglove penstemon – also called Foxglove beardtongue
• Lanceleaved coreopsis
• Purple prairie clover
• Missouri primrose
Summer bloomers:
• Topeka coneflower
• Pale purple coneflower
• Butterfly milkweed
• Joe pye weed
• New Jersey tea
• Grayhead coneflower
• Blackeyed susans
• Culvers root
Fall bloomers:
• Blue lobelia
• Dotted gayfeather
• Button gayfeather
• Swamp milkweed
• New England aster
• Willow leaved sunflower
• Ironweed
• Rigid goldenrod