ALL MONARCH CLASSES ARE FULL.  THANKS TO EVERYONE FOR PRE-REGISTERING!
The migration is almost here!  Those big, beautiful, orange Monarch butterflies will be here soon as the main body of the migration moves through Topeka and Shawnee County.  Millions of them will make their way south from as far north as southern Canada to their wintering grounds in Mexico.  Your Topeka Zoo & Conservation Center in partnership with the Kansas Museum of History will be waiting for them!  The Kansas Museum of History and the Topeka Zoo have teamed up for the second year in a row to offer evening classes and Monarch tagging events for the public.  Education and Conservation staff from the zoo will conduct these presentations for the community in the classrooms and on the grounds of the Kansas Museum of History.  Each presentation will then be followed immediately by participants moving out into the museum's extraordinary prairie to capture and tag monarch butterflies before releasing them to continue their southbound migration.
The tagging is part of Operation Monarch Watch, the internationally known Monarch butterfly study sponsored by the University of Kansas to learn more about these amazing creatures, the challenges they face that have caused the loss of up to 90% of them in recent years, and what we can do to help ensure we do not lose the species forever.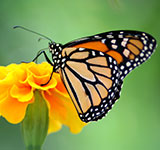 So come make history by joining the zoo and the Kansas Museum of History for an evening of citizen science as you take part in a monarch class and tagging event.  These evening presentations will be conducted on:
September 27, 5:30-7:30 PM – This class is FULL.
September 29, 5:30-7:30 PM – This class is FULL.
Each presentation will be at the Kansas Museum of History, 6425 SW 6th Ave., Topeka.
Each presentation is FREE to the public, and spots are filling up quickly.  Pre-registration can be done by contacting Rachel Rost at 785-368-9137 or by e-mailing rrost@topeka.org.   Please tell us how many adults and how many children will be in your party on the date you select.
For more information, contact Rachael at the information above or Dennis Dinwiddie at ddinwiddie@topeka.org.