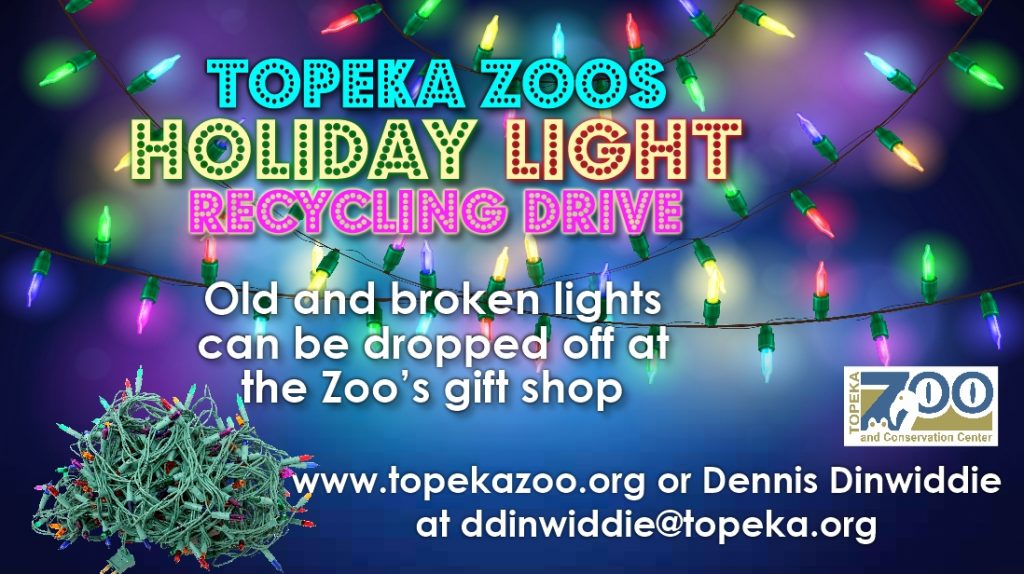 Join the Topeka Zoo's Holiday Lights Recycling Drive!  The zoo's second annual recycling drive is designed to prevent thousands of pounds of unused, unwanted, or broken, holiday lights from going to landfill space.  Through the holiday season when so many holiday lights are found to be broken or unwanted, simply drop them off at the front entrance of the Topeka Zoo.  Holiday lights dropped off will be collected and turned in where their parts will be separated, allowing 100% of each light unit turned in to be recycled.
All drop offs of holiday lights must be made to the marked containers at the zoos front entrance, and can be accepted at any time of the day seven days per week.  Rope lights, garland lights, C7, C9, mini lights, and LED holiday lights are all accepted.  Yard light displays can be accepted as long as they contain electric wiring and can be broken down to lay flat for storage and transportation. Please do NOT drop off holiday trees with lights still attached to them.  Please separate lights from the trees before drop off.
Holiday lights can be turned in for recycling from November 15, 2016 – January 15, 2017.  Lights cannot be accepted after January 15.
For questions or more information on the Topeka Zoos Holiday Lights Recycling Drive, please contact Dennis Dinwiddie at ddinwiddie@topeka.org, or 785-368-9134.