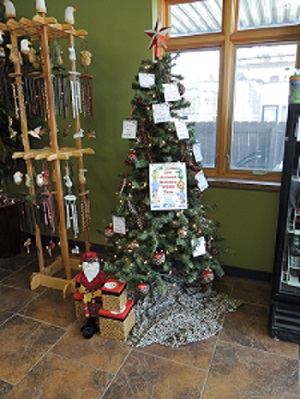 Have you wanted to buy your favorite animal a gift but just aren't quite sure what's on their list?  Located in various businesses throughout Topeka you will find Topeka Zoo Animal Giving Trees.  The trees are decorated with paper ornaments, each listing a particular enrichment item that the animals residing at your Topeka Zoo would love to have from you as a holiday gift!  Pick an ornament off the tree, purchase that item for the animal, and then drop it off at the zoo or at the store (designated locations only). Here are just some of the locations that you will see trees at:
Leopard Spot Gift Shop
Animals and Man building
Seabrook Apple Market
Hy-Vee
Orschelns
Classic Bean
Tarwaters
Petco
Jocks Nitch
College Hill Pizza Pub
Mall Pizza Pub
Burlingame Road Animal Hospital
Qdoba
Animal Clinic of North Topeka
Sears
City Hall
Wheel Barrel
Moore's Martial Arts Academy
University Animal Clinic
Thank you to all of these businesses for participating!