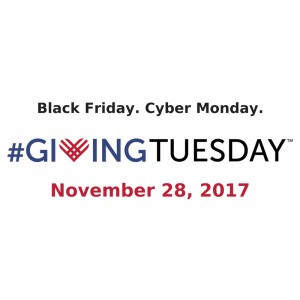 There is still time to donate!  Join the movement & give back now until December 20!
Just click on the button below to donate today!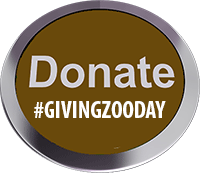 Thanksgiving is a wonderful time to spend with family and friends. For the Friends of the Topeka Zoo, we are reminded of the many supporters of our zoo – donors, members, volunteers, and zoo guests – all whose generosity makes the Topeka Zoo a Community Treasure. Annually, through the community support, the zoo serves 200,000 guests. Sadly, we are frequently reminded of the many individuals and families in our community that are unable to visit the zoo because they cannot afford it.
The 8-year-old child who came to the zoo this year with a school group saw a giraffe for the first time. He carefully read the giraffe graphic taking in every detail about the animal. He was the first to raise his hand for questions…and he had a lot of them. The wonder and awe in his eyes will forever remind us of why what we do here at the Topeka Zoo is so important! Sadly, his family never could come to the zoo together. With their limited income, there are no additional dollars to spare.

The elderly woman, who had recently lost her husband, found solace near the elephants. She would sit for hours watching the elephants interact with one another, journaling, and drawing. Her visits were rare as she was on a fixed income. The zoo was a place that replaced loneliness with joy.
These stories are just two of many that remind us of how fortunate we are to have a zoo in Topeka. But, it also reminds us that there are many who are not as fortunate to experience this community treasure. This is where you can help!
Our national holiday of thanks is followed by two days of "stuff-getting". The rampant frenzy of Black Friday has spilled into shopping the online specials of CyberMonday. The splurge and binge of those days have created the perfect conditions for a change of pace – a day of giving.
On Tuesday, November 28, the Topeka Zoo will celebrate the great American spirit of generosity through #GivingTuesday or what we at the zoo call #GivingZooDay.
This day, has been organized with the simple aim of encouraging individuals, families, schools, businesses and other organizations to give to the less fortunate.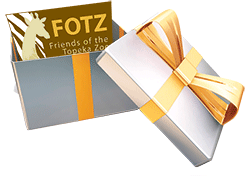 This year on #GivingZooDay, we are challenging the community to help those less fortunate
by purchasing a Friends of the Topeka Zoo Membership as a gift to be given to a family in need by FOTZ.
Once you make your donation for memberships, FOTZ will donate an additional membership for each one you buy…
DOUBLING YOUR GIFT
and allowing more families to come to the zoo!
Your gift not only will allow a family or individual to come to the zoo for an entire year FREE, but funds generated from the sale of memberships help to support YOUR Topeka Zoo!
You are the most important part of making this movement a reality! Please join us on November 28 for #GivingZooDay and give the zoo to others. Pay it forward and help give families an opportunity to experience the Best Gift Ever…a membership to the Topeka Zoo!
Make a contribution during our #GivingZooDay Campaign November 28-December 15. Our goal is 50 donated memberships, doubled by FOTZ to equal 100 total thus giving the gift of the Topeka Zoo to thousands in our community that will last an entire year!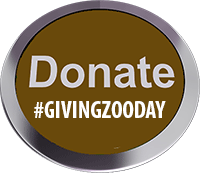 FOTZ is a 501(c)3 organization and donations are tax-deductible as applicable by law.