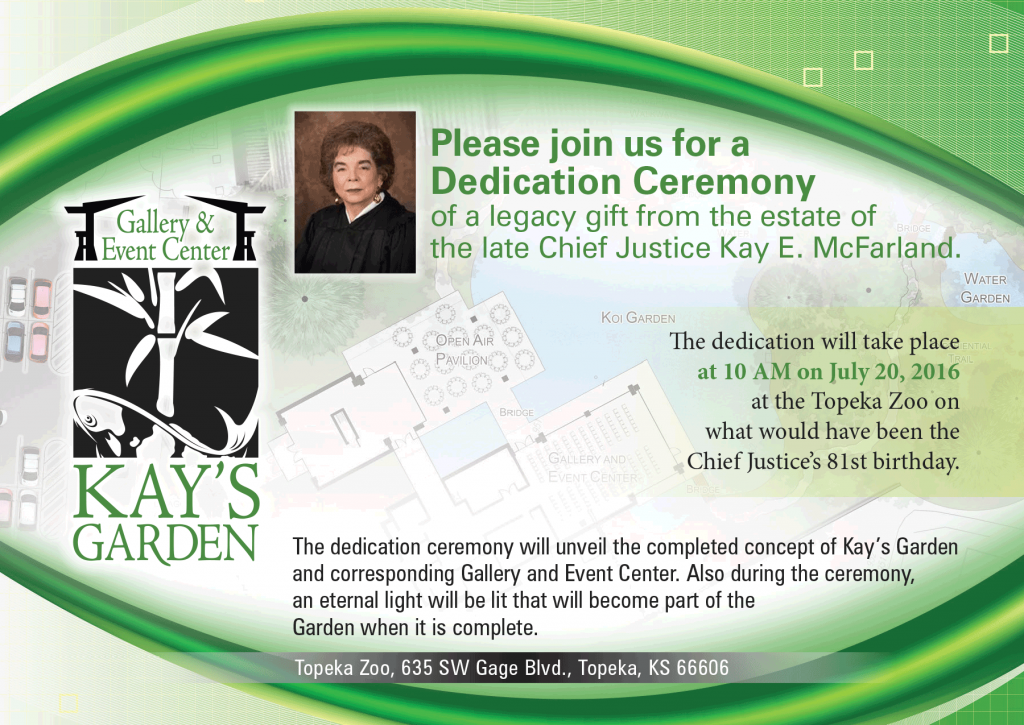 Please join us for a Dedication Ceremony
of a legacy gift from the estate of the late Chief Justice Kay E. McFarland.
The dedication will take place
at 10 am on July 20, 2016
at the Topeka Zoo on
what would have been the
Chief Justice's 81st birthday.
The dedication ceremony will unveil the completed concept of Kay's Garden and corresponding Gallery and Event Center. Also, during the ceremony, an eternal light will be lit that will become part of the Garden when it is complete.
Please join us for this event at Your Topeka Zoo, 635 SW Gage Blvd., Topeka, KS 66606.
---
Chief Justice Kay E. McFarland
1935-2015
Former Kansas Supreme Court Chief Justice Kay Eleanor McFarland passed away peacefully at home on Tuesday, August 18, 2015, following a brief illness. She had recently celebrated her 80th birthday at a dinner attended by friends, including members of what she considered her "court family."
Kay was born on July 20, 1935, in Coffeyville, Kansas, the daughter of Dr. Kenneth Warren McFarland and Clara Eleanor Thrall McFarland. Dr. McFarland served as superintendent of schools in Coffeyville and moved the family to Topeka when he accepted the position of Superintendent of Schools for U.S.D. 501. The family eventually built a home on the land that is the current site of the McFarland Farm development. Kay attributed her lifelong love of animals to the many horses and other pets she raised on that land.
She graduated magna cum laude from Washburn University in 1957 with dual majors in English and history-political science. Following her graduation from law school in 1964, she was engaged in the private practice of law. In 1970, she defeated the incumbent judge to become the first woman elected to a judgeship in Shawnee County, taking office as judge of the probate and juvenile courts in January 1971. She delivered on her campaign promise to enact reforms that would reduce serious juvenile offenses by more than half. She became the first woman elected as a Shawnee County district judge in 1972, taking office in January 1973.
On September 19, 1977, she was appointed to the Kansas Supreme Court by Governor Robert Bennett, becoming the first woman to hold that office. She became Chief Justice on September 1, 1995, upon the retirement of Chief Justice Richard Holmes. Again, she was the first woman to hold that office. She served as Chief Justice until her retirement in 2009. Her more than thirty-one year tenure on the Supreme Court is one of the longest in Kansas history. Many of the opinions she authored are available online at www.kscourts.org, and hundreds of other non-electronic format opinions are available in the bound volumes of the Kansas Reports.
As Chief Justice, Kay never forgot her years in the district court. She understood and greatly appreciated the difficult work of district court personnel throughout the state, and she enjoyed meeting and visiting with judges, court administrators, clerks of the district court, court services officers, court reporters, and other personnel. You were members of her court family.
Kay was not one to speak of her accomplishments, but she was pleased to receive the first annual Kay McFarland award from the Women Attorneys Association of Topeka, which is to be given annually to the individual who has achieved professional excellence in her field, influenced women to pursue legal careers, opened doors for women lawyers in a variety of job settings that were historically closed to women, and has advanced opportunities for women within a practice area or segment of the profession.
In addition to the law, Kay's interests and talents were many and varied. She was a world class show ring rider of Tennessee Walking horses, including the award winning Midnight Secret, and bred champion Irish wolfhounds from stock brought directly from Ireland. She was also an expert seamstress and quilter.
Kay traveled the world. Her father's work as an educational consultant and motivational speaker for the Reader's Digest and General Motors provided early opportunities for domestic and foreign travel. Her love of travel continued throughout her life, including three African safaris with former Topeka zoo director, Gary Clarke.
She was the consummate story teller. Kay's travels, background, experiences, and knowledge provided her with much material, but it was her ability to find the humor in almost any situation and her keen observations regarding human nature that made her stories unique. Her childhood years spent in Coffeyville and visiting relatives in Caney, Kansas, were as frequently the subjects of her stories as were her travels to exotic locations throughout the world. Simply put, she enjoyed people and their situations wherever she found them.
Kay was preceded in death by her parents and a brother, James Warren McFarland. A former sister-in-law, Pat Hess, survives. She is remembered by many members of her court family throughout the state.