Conservation Connection is a presentation series that the Topeka Zoo has started in order to inform people about conservation efforts going on in their own backyard as well as on a global scale. Conservation Connection will be held every other month during the 2016 season. They are typically held on a Thursday from 6:30-7:30.
 These events are FREE to the public!
2016 Conservation Connection Schedule
Nov 10 – Join Dr. Roger Boyd of the Baker Wetlands as he discusses our local wetland, its recent restoration, animals that live there, and ways we can enjoy and protect it. Event starts at 6:30 in the Gary Clarke Education Room and is free to the public.
---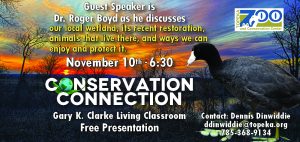 Wetlands Expert to Speak at the Topeka Zoo
Dr. Roger Boyd, Education Coordinator for Baker Wetlands and the Discovery Center, will speak at the Topeka Zoo & Conservation Center on Thursday, November 10, 6:30-7:30 PM.  Dr. Boyd will discuss the recent growth of the wetlands themselves, the new wetlands Discovery Center, and the state of Wetlands in Kansas including the challenges they face and what is being done to support wetlands.
Dr. Boyd, a recognized expert on ornithology, and wetland and prairie ecosystems, has spent 50 years involved with the wetlands and has guided the development of the wetlands to its newly grown size of 927 acres, and the development of the new Baker Wetlands Discovery Center.  Surveys now show 376 different vertebrate species and almost 500 plant species found in this NE Kansas wetlands.  The Baker wetlands, called "the most beautiful place in Kansas" by HouseBeautiful magazine, is within a short and easy drive from Topeka.
Wetlands in Kansas provide homes to numerous species of animals and plants, as well as providing benefits to society through flood control, recreation, and pollution control to name a few.  Join us at your Topeka Zoo on Thursday, November 10, 6:30-7:30 PM to hear more about the wetlands of Kansas from one of Kansas's foremost wetlands experts.  Admission to this event is FREE!  Zoo gates open at 6:15 for FREE admission to this event.
Immediately following the presentation, all guests at the event are invited to join zoo staff for a BEHIND-THE-SCENES TOUR of the zoo's River Otter exhibit, and meet the zoo's River Otters up close and personal!