Conservation Connection is a presentation series that the Topeka Zoo has started in order to inform people about conservation efforts going on in their own backyard as well as on a global scale. Conservation Connection events are held every other month. They are typically held on a Thursday from 6:30-7:30.
 These events are FREE to the public!
2017 Conservation Connection Schedule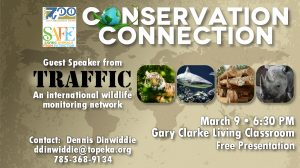 March 9 – 6:30-7:30 pm – FREE to the Public
The Internationally renowned organization TRAFFIC will visit the Topeka Zoo for a free presentation to the public.  TRAFFIC, the Wildlife Trade Monitoring Network, is the world's leading organization working globally to monitor the trade in wild animals and plants for conservation and sustainable development.  Robin Sawyer, Program Officer for the World Wildlife Fund's TRAFFIC, will present on their goal of providing monitoring and research for information and enforcement to protect wildlife around the globe from illegal and unsustainable wildlife trade, while still providing benefits for human well-being.
From tigers to sharks, elephants to rhinos, endangered plants to whole forests, the illegal poaching and trade in wildlife and wildlife parts affects us all, and has driven some species to the brink of extinction. TRAFFIC is the global organization that researches and monitors how poaching and the illegal harvesting and trade of the world's wild animals and plants is impacting on those populations.
From research to analysis, and from global monitoring to undercover work that places investigators in harm's way, TRAFFIC keeps the world informed on how populations of wildlife are being affected by ongoing trade in those species.
TRAFFIC's presentation will be held at the Topeka Zoo's Living Classroom, on zoo grounds, on Thursday, March 9, 6:30 – 7:30 PM.  Zoo gates open at 6:15 PM for admission to the event.  Admission to this event is FREE to the public.  So join us at the zoo on March 9 to learn how TRAFFIC combats illegal wildlife crime and trafficking around the globe.
---
More upcoming events in this series:
May 11 – Speaker: Margaret Smith from the Trumpeter Swan Society
July 13 – Speaker: Rob Schultz from the International Wolf Center
September 14 –  Speaker: Dr. Jeffrey Glassberg from the North American Butterfly Association
November 9 – Speaker: TBD