Conservation Connection is a presentation series that the Topeka Zoo has started in order to inform people about conservation efforts going on in their own backyard as well as on a global scale. Conservation Connection will be held every other month during the 2016 season. They are typically held on a Thursday from 6:30-7:30.
 These events are FREE to the public!
2016 Conservation Connection Schedule
Jul 14 – Dr. Richard Zimmerman from Orangutan Outreach – Learn more here.
Sep 8 – Monarch Butterfly Migration
Nov 10 – TBA
---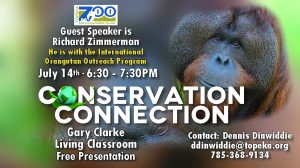 Richard Zimmerman, Executive Director of Orangutan Outreach will speak at the Topeka Zoo on July 14th.  Orangutan Outreach is an international organization responsible for protecting orangutans in their native habitats in Borneo and Sumatra, while also providing care for orphaned and displaced orangutans until they can be returned to their natural environment.
Orangutan populations in both of their last remaining homes of Borneo and Sumatra have suffered losses of up to 50% in the last decade alone due largely to destruction of the rain forests they depend on.  Intense illegal logging and conversion of forest to palm oil plantations, clearing forests for mining, settlements, and road construction have significantly reduced the amount of forests usable by orangutans.  Large scale fires and poaching for the illegal animal trade has further reduced wild orangutan populations.  Never before has their very existence been threatened so severely.
Despite these heavy losses, Orangutan Outreach continues to find innovative ways to fight for the survival of wild orangutans.  Zimmerman will be at the Topeka Zoo on Thursday, July 14th, 6:30-7:30 PM, to offer a presentation on the future of orangutans in the wild, the challenges they face and what is being done to help them.
Come join your Topeka Zoo & Conservation Center to learn about the world's wild orangutans.
Gates open at 6:15 for admission.  Admission to the event is free to the public.
For questions or additional information, contact Dennis Dinwiddie at ddinwiddie@topeka.org, or 785-368-9134.