Conservation Connection is a presentation series that the Topeka Zoo has started in order to inform people about conservation efforts going on in their own backyard as well as on a global scale. Conservation Connection events are held every other month. They are typically held on a Thursday from 6:30-7:30.
 These events are FREE to the public!
2017 Conservation Connection Schedule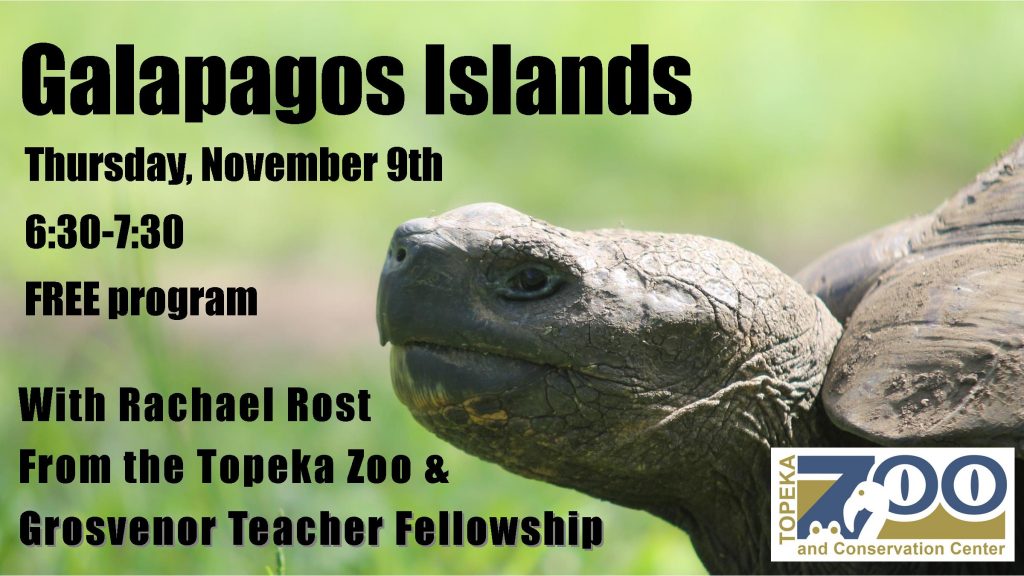 Join us on Thursday, November 9th, as we talk about the Galapagos Islands and the unique animals that live there. Rachael Rost, Education Specialist at the Topeka Zoo, will be talking about the fellowship with National Geographic and Lindblad Expeditions that sent her there! She will be sharing photos and videos from her recent expedition to the Galapagos Islands.
Are you a teacher looking for more resources to use in the classroom? Do you enjoy traveling and networking with people around the world? This program will benefit you too! Her goal is to pass on all National Geographic has to offer, so that area educators and their students can benefit. National Geographic has resources for teachers of all subjects, so bring your friends!
This presentation is free to the public and will be held in the zoo's Gary Clarke Education Room on Thursday, November 9th, from 6:30-7:30. The doors will open at 6:15 and light snacks and refreshments will be provided. For any questions on this presentation, please call 785-368-9137. We hope to see you there!