Prepare yourself for a haunting night at the Topeka Zoo! For the first time, the Zoo will host brave, 21 & older adult souls for a night of booze, music, haunting decor and more.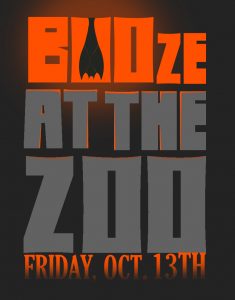 Cost?   

General Entry – In Advance: $40 | Day of Event: $45
Designated Driver Tickets: $20 | Day of Event: $25
Event includes:
Admission to the Topeka Zoo
Access to zoo exhibits
Alcoholic beverages
Music and Fright Zones
Food available for purchase from food trucks
Event Rules:
1. Adults 21+ ONLY1. Adults 21+ ONLY
2. Costume: -No Weapons (Including but not limited to; Guns, Knives, Swords, Bats, etc.) -No masks, face coverings, or hood ( You must be identifiable. We reserve the right to ask you to remove any piece of your costume)
3. No touching, harassing or endangering performers and staff
4. No feeding food or beverage to animals
5. No rough play
6. No defacing property / theft
7. No refunds for any reason
8. No flashlights.
Please be considerate of the animals while you are in their home, they may be startled by screaming and we need your help keeping them safe.
Caution: There are strobe lights, fog machines, dimmed lights and dark areas at this event. 
WE ARE WATCHING YOU…Violation of these rules and regulations will result in your immediate removal from the premises. For your protection and for the protection of employees, security personnel are on the premise.
Costume Contest Rules
While we encourage guests to dress up in the spirit of the event, we value safety for all in attendance. The following guidelines are in place to ensure everyone has a spooktacular experience. There will be three categories in which you will be judged:
1. Best Couple
2. Scariest
3. Most Creative
Winning entries will each receive a $100 Visa Gift Card!
• FOTZ reserves the right to deny admission to or remove any person wearing attire that is considered inappropriate or attire that could detract from the experience of other guests.
• Costumes may not contain any weapons that resemble or could easily be mistaken for an actual weapon. This includes toy swords, knives, guns, etc.
• This is an event for guests 21 and older. Guests must be visible at all times. Adults in masks will be asked to remove them at the gate for identification purposes.
• Guests who do not adhere to these guidelines may be refused entry into, and/or removed from the event unless his or her costume can be modified to meet the above standards.
• The Topeka Zoo cannot hold any items for guests at the Admissions Office. Please leave all unsecured or restricted items in your vehicle or at home.
Costume contest judging will begin at 8:30 in the Security Benefit Pavillion. Guests who wish to enter the contest should report to the pavilion at 8:20. No late entries will be accepted.
The best part about this event?  Proceeds from this special event go to support the Topeka Zoo's education programs, conservation efforts, exhibit enhancement and more!

| | | |
| --- | --- | --- |
| Business Partners | | |
| | | |
| | | |
| | | |
| | | |
| Event Sponsors | | |
| | | |
| | | |
| | | |