Happy Birthday to You, Have a Party at the Zoo!
Where is the most adventure-packed place in town to host your next birthday party? The Topeka Zoo of course! A birthday celebration at the Topeka Zoo is not only exciting and entertaining, but also provides party goers with interesting facts about animals from North America, Africa, and the Tropical Rainforest.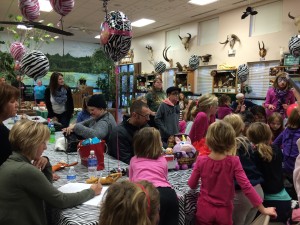 All Topeka Zoo birthday parties are two hours in length and include admission to the zoo for 20 guests over the age of three. Basic party packages costs are $175 for Friends of the Topeka Zoo members and $200 for non-members. Included with each birthday party package is a presentation by a Topeka Zoo staff member featuring a live animal guest and a cupcake cake of 20 cupcakes topped with a photo of a favorite Topeka Zoo animal. Plates, napkins, cups, and juice are also provided.
Cake Photo Options Are:
Tiger
Giraffe
Elephant
African Lion
Orangutan
Black Bears
Zooniquely Yours Behind-the-Scenes

Wow your wild crew by choosing to incorporate a behind the scenes visit to the home of their favorite Topeka Zoo resident for an additional cost of $50. Ask your birthday party consultant which options are available.
You can also add on an up-close animal guest to your party for $25.00!
Frequently Asked Questions
Q: I will have more than 20 party guests. What is the cost for them?
A: You will simply pay $5.00 per person over 20 people.
Q: How much do additional cupcakes cost?
A: We offer an extra dozen cupcakes for $10. Choose to have additional cupcake cakes for a cost of $20 per cake.
Q: Does the zoo host birthday parties for adults or just children?
A: Whether your special person is turning 1 or 100 a zoo birthday party is the perfect choice!
Q: What if the weather is inclement? Will the birthday party still go on?
A: Yes, zoo birthday parties are held inside the Gary K. Clarke Living Classroom with many animals and hands-on activities available inside.
Q: How much set-up and tear down am I responsible for.
A: None! Zoo staff take care of those pesky details so that birthday party guests need only enjoy the party and time with family and friends.
For more information about Topeka Zoo birthday party packages or to book a party contact Bobby at 785-368-0172 or email robertoe@fotz.org.