Topeka Zoo Elephants Get New Roommates!
The Topeka Zoo's animal collection has increased in a BIG way!  For the last two months, the zoo has been preparing for the arrival of two female elephants, one Asian and one African, who will join the Topeka Zoo's current elephants Tembo and Sunda.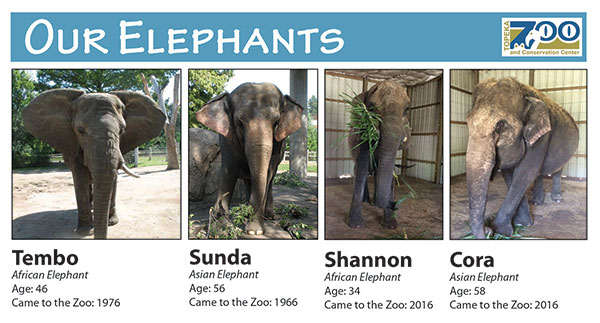 Cora, a 58-year-old Asian Elephant and Shannon, a 34-year-old African Elephant, arrived at the Topeka Zoo Aug. 24, from Florida.  For 33 years, Cora and Shannon, along with their owners, have traveled across the Eastern half of the United States presenting an elephant educational program called Elephant Encounters.  After one of the owners passed away in February, a decision was made to retire Cora and Shannon with the hope that they could remain together.  According to Zoo Director Brendan Wiley, the Topeka Zoo was one of three zoos in the nation that house both Asian and African elephants together.  "We are delighted to have these two elephants join our herd and live out their remaining years in comfort and peace," Wiley said.
Over the next few weeks, the zoo's Elephant Team will work with Cora and Shannon to acclimate them to their new home as well as their roommates Tembo and Sunda.  Several zoo experts around the country are also available to come assist with the introduction, if necessary.
As with all incoming animals to the zoo, the elephants will be in quarantine for a period of time determined by the zoo's veterinarian.  To give the elephants privacy, during the transition, the elephant exhibit may be closed to the public during parts of the day.
According to Zoo Director Brendan Wiley, "the zoo is extremely excited for the arrival of the new elephants and looks forward to introducing the new additions to the community".  For updates on the elephants, the public is asked to come back and visit our elephant page here or visit the Zoo's Facebook page at facebook.com/TopekaZoo.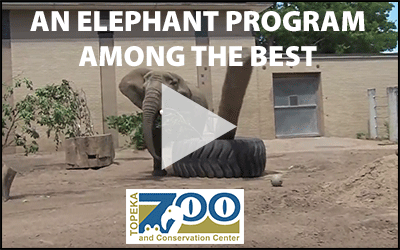 An Elephant Program Among the Best
To see what makes our elephant program among the best and to view a day in the life of our elephants, click on the video link at the right.
For complete details on our zoo's elephant program, visit www.trunktruths.com.
Would you like to help support our elephant program?
If you would like to help support our elephant program through an online contribution, just click on the button below to complete your donation. Thanks for your consideration and support!