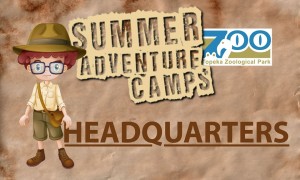 ADVENTURE CAMPS


Registration opens Monday, January 9th, at 9:00am.

 
All summer camps are sold out. Please call 785-368-9137 with questions or to be put on a waiting list for any of the camps below. 
Are you a kid or teen who is wild about animals? Do you have a passion to explore the outdoors? Sign up for Topeka Zoo summer camp! We offer 8 week-long camps that are geared for children ages 6-12. There are also two weeks of teen camp that will be held in June that are geared toward 13-17 year olds. During these camps, your child will be busy exploring the animal kingdom through stories, games, interactive play, and lots of live animal encounters. Scroll down to read about each camp and sign up today.
Summer Camps
The following information is true for all weeks of regular summer camp (excluding Teen Camp):
Time: 9:00-3:00; No stay-late option
Cost: $140/week for FOTZ members; $165/week for non-members
Age: 6-12 (Can be 5 if they have completed kindergarten)
Week 1 – Camp full.
Date: June 5th-9th
Theme: Zootopia
Description: Join us for this week of camp as we explore the food chain and discuss how herbivores, omnivores, and carnivores interact with each other. From predator/prey relationships to animals helping each other, this week will highlight how the animal world, including humans, is all connected.
————————————————————————————————————————-
Week 2 – Camp full.
Date: June 12th-16th
Theme: Earth Explorers
Description: Grab your maps and embark on this camp journey, as we travel through history and follow famous explorers on their search for new lands and animals. Join us as we think like explorers do and set off on the quest of a lifetime!
---
Week 3 – Camp full.
Date: June 19th-23rd
Theme: Food Fest
Description: Join us for this delicious camp as we explore food around the world. From local farm equipment, cooking, and animals to global cuisines from other cultures, this camp will be sure to make your mouth water!
————————————————————————————————————————-
Week 4 – Camp full. 
Date: June 26th-30th
Theme: Nature's Art
Description: From spotted fur to colorful leaves, nature is full of beautiful masterpieces. Join us for this week of camp as we learn about and create our own works of art based on the amazing natural world around us. This week will be sure to add color to your life!
————————————————————————————————————————-
Week 5 – Camp full. 
Date: July 10th-14th
Theme: Wild Weapons: The World's Most Dangerous
Description: From teeth and claws to sharp spikes and venom, this camp will reveal the wild weapons animals use to stay alive. Join us as we discuss these dangerous adaptations and creatures. This camp is going to be killer fun!
————————————————————————————————————————-
Week 6 – Camp full. 
Date: July 17th-21st
Theme: Where the Wookie Lives: Exploring Ecosystems Far, Far Away
Description: Grab your lightsabers and engage your hyperdrive as we speed to the differing ecosystems of the Star Wars universe. From the ice planet to the sand desert, we will explore the habitats and animals of Star Wars and discuss how their environments are similar to our ones here on Earth. The force is strong in this camp!
————————————————————————————————————————-
Week 7 – Camp full.
Date: July 24th-28th
Theme: Animal Inspirations
Description: Join us for this camp week as we discuss how animals help humans. From technology to conservation, service animals to four-legged heroes, we will explore how our human world is impacted by the amazing creatures of the Earth. This is one camp not to miss!
————————————————————————————————————————-
Week 8 – Camp full. 
Date: July 31st-August 4th
Theme: Zoo Detectives
Description: Whether you prefer Sherlock Holmes or Scooby Doo and the gang, we all have our favorite detectives. For this week of camp, grab your tool kit and keep your eyes peeled, as campers will inspect the zoo and its animals while solving a new mystery each day!
————————————————————————————————————————-
Teen Summer Camp
Ages: 13-17
Two options:
June 19th-23rd  – Camp full. Call 785-368-9137 to be placed on waiting list
June 26th-30th – Camp full. Call 785-368-9137 to be placed on waiting list
Theme: Exploration Week for Teens
Description: Do you know a teen who loves nature? This week is just for them! Join us as we meet live animals, talk conservation, and take trips to various ecosystems around Northeast Kansas. This camp will also provide teens with the opportunity to talk to experts in many animal-related fields!
Both weeks of teen camp are meant to complement each other, as we will be doing different activities each week. They are designed in such a way that you can sign up for week 1, week 2, or both.
Time: 8:30-3:30; However, times may vary slightly depending on our trip for that day.
Cost: $140/child for FOTZ members; $165/child for non-members; price is per week
---
Camp Details:
Campers are to bring their own lunch each day. A daily afternoon snack will be provided by the zoo. Feel free to pack your own snack if you are concerned about food allergies (although we do our best to try and accommodate them).
Spring break camp has a "stay late" fee of $10.00 per child per day. There is no "stay late" option for summer camps.
Swimming: Each of the 8 weeks of summer camp will include a 2-hour trip to the Blaisdell Family Aquatic Center during one afternoon during the week. You will receive notice of which day this will occur by the first day of that camp week and are welcome to send life jackets, floaties, etc. with your kid on that day.  Parents and other adults are more than welcome to join us at the pool. We do have a system worked out for beginner swimmers and will have several counselors stationed in the shallow end. If you have any concerns about the pool visit, please call 785-368-9137.
Cancellations:  If you cancel your camp registration 8 or more days before the start date, the Zoo will refund the registration fee, except for $25. This fee is applied per child per week of camp you cancel. The Zoo will not refund any registration fees if cancellation occurs within 7 days of the start date.
Registration for all camps opens on Monday, January 9th, 2017 at 9:00am. Please call 785-368-9137 for more information. You can sign up for one or multiple weeks of camp at a time; payment required to secure registration.
KDHE Forms
These forms are required to be completed by the morning of the first day of camp (before you drop your child off), otherwise your child cannot attend camp until we have the following paperwork. These are kept on file for an entire calendar year–so you only need to fill them out once per camp year.
Health History Form –> Required for ALL children. Immunization records are not required if your child attended school in Kansas, Missouri, or Oklahoma this year. Immunization records are required if they did not attend public/private school or attended in another state other than KS, MO, or OK. Please note that this form has to be completed in its entirety. We need all names and street addresses where it asks for them (street intersections do not work). If none of the boxes at the top of page 2 are applicable, please write "NA" in each box.
Authorization for Emergency Medical Care –> Required for ALL children. You do not need a notary if you have someone else witness your signature and sign as well. Please note, health insurance information is required at the bottom. If your child does not have any allergies, please write "NA" on that line.
Parental Permission for Off-Premise Trips –> Required for ALL summer camp children. This is a permission form to go to the pool each week. NOTE: If your child is enrolled in Teen Week 1 and/or 2, I will send out the locations of our trips via email a few weeks before those camps start.
The following two forms are only required for children who bring medication, EpiPens, inhalers, etc to camp. You will only choose one of following.
Authorization for Self-Administration of Medication –> Please fill this out if you have a child who will be dispensing their own medications while at camp–including medicine, EpiPens, inhalers, etc. This means that camp counselors do not carry around these items and the camper is responsible for dispensing medication to themselves. You do NOT need it signed by a licensed physician or nurse practitioner.
Authorization for Dispensing Medications to Children –> Please fill this out if you have a child who wishes to have camp staff dispense medication to them. This includes having counselors carry around EpiPens, inhalers, medicines, etc and having the staff dispense it as needed.
You may email completed forms to RRost@Topeka.org before camp starts or may bring them to the first day of camp your child attends this year. Please contact 785-368-9137 with questions.
Ready to sign up? Because our FOTZ members receive a discount ($25 per camp) there are two separate forms. Please ensure you click the right one or we will contact you to pay the difference. If you are unable to pay the difference or if you are unreachable, your registration will become invalid and your payment will be returned. If you are unsure of your membership status, please call Friends of the Topeka Zoo at 272-2595. Thank you!
Please ensure that any browser you use is up to date before proceeding. If you are using Internet Explorer and the sign in process still will not work for you, please try another browser or call 785-368-9137 to sign up.

Thinking about a membership? If you are signing up for at least 2 camps, a family FOTZ membership pays for itself! Click here to learn more about the benefits of becoming a member or sign up today.