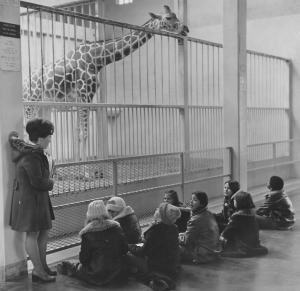 Do you love animals and the natural world? Do you want to help instill that curiosity and passion in our zoo guests? Apply to be a zoo docent today!
Zoo Docents are volunteer educators and guides who provide interpretation and exciting, hands-on experiences around your Topeka Zoo. As such, this group of volunteers receives a more in depth and specialized training than our other volunteers. At the end of initial training, docents are uniquely experienced in the various parts of the zoo and become part of our effort to change the world.
The duties our docents perform are as varied as those performing them. They operate Discovery Stations around the zoo, talk with guests about animals that live at the zoo, handle education animals to provide up-close experiences, guide our guests through the zoo, and more.
If you love animals, love learning, if you enjoy talking to people, and if you're looking for a unique and rewarding volunteer experience, you're in the right place!
Learn more or sign up today by clicking here or call Dennis Dinwiddie at 785-368-9134
The next Topeka Zoo Docent Training Academy occurs during the week of Aug 14-18, 2017.