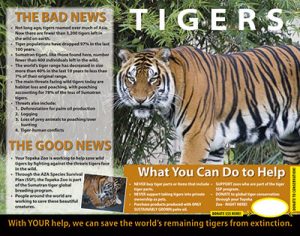 Don't know what to do with your spare change? Well, we can help!
Bring your spare change (or dollars) to the Topeka Zoo and Conservation Center and look for the Conservation Collection Stations around the zoo. Hint: Look by the tigers, bears, hippo (inside), elephants, and gorilla.
These stations describe the conservation efforts Your Topeka Zoo is working on locally and globally. With your help and support, we can work together to save animals from extinction around the world!
Conservation is one of the Zoo's key missions.
If you could save the world, wouldn't you?