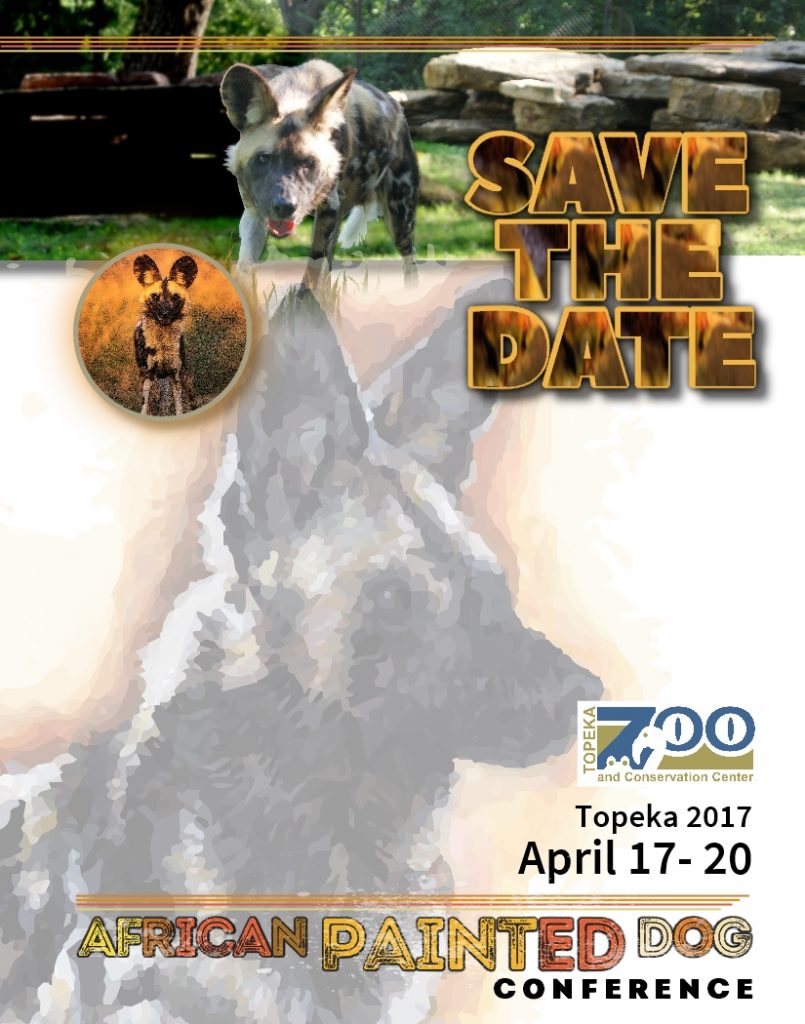 The African Painted Dog Conference brings together conservationists and zoo professionals from around the world to enhance and improve the care and conservation of African Painted dogs.
This conference will focus on gathering the knowledge of field biologists and professional animal caregivers to further our understanding of this amazing species and promote professional development.
The conference will be held April 17-20, 2017.
Registration
Click here to view the registration form and sign up today!
*** Must get order in by March 30 to guarantee a shirt***
Mail or e-mail registration forms to Wrylie Guffey at wguffey@topeka.org
635 SW Gage Blvd, Topeka, KS 66606
Posters and Presentations
Interested in submitting a presentation or poster? Click here to view submission form.
Hotel
The Topeka Ramada Downtown is the official conference hotel and will provide a discounted rate of $69 per night when you call 785-234-5400 and reference the Topeka Zoo African Painted Dog Conference.
420 SE 6th Avenue, Topeka, KS 66607
Airport
Suggested: The Kansas City International Airport (MCI) is the closest airport. It is a little more than an hour's drive from Topeka.
The Dwight D. Eisenhower National Airport (ICT) is located in Wichita, KS and is a little more than 2 hours from Topeka, but may be preferable for a return flight if visiting the Sedgwick County Zoo on post trip.
Itinerary
April 17
April 18
April 19
April 20
April 21
8AM Pre-trip to Rolling Hills Zoo

6pm – Icebreaker

Conference proceedings (Breakfast, snacks, lunch and dinner provided)
Conference proceedings (Breakfast, snacks, lunch and dinner provided)
Conference proceedings and Zoo Day (Breakfast, snacks and lunch provided)
8AM Post trips to Kansas City Zoo and Sedgwick County Zoo
Pre-Trip
Rolling Hills Zoo – Salina, KS
Leave hotel at 8am and leave Rolling Hills Zoo at 2:45pm to return to Topeka in time for Ice Breaker
http://www.rollinghillswildlife.com/
Post-Trips (2 options)
There are 2 options for post trips but both will be at the same time so only one can be chosen.
Kansas City Zoo – Kansas City, MO
Leave hotel at 8 am
https://www.kansascityzoo.org/
Sedgwick County Zoo – Wichita, KS
Leave hotel at 8am
Topeka Tourism
Kansas AZA Accredited Zoos
Topeka Zoo & Conservation Center – Topeka, KS
Sedgwick County Zoo – Wichita, KS (2.5 hours)
Rolling Hills Zoo – Salina, KS (1.75 hours)
Sunset Zoo – Manhattan, KS (1 hour)
David Traylor Zoo of Emporia – Emporia, KS (1 hour)
Hutchinson Zoo – Hutchinson, KS (2.5 hours)
Lee Richardson Zoo – Garden City, KS (5 hours)