Pollinator Palooza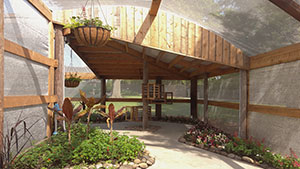 In the summer months (June-September), make sure to visit Pollinator Palooza, more than 6,800 square feet of dedicated garden space and over 14 flowering beds.  In the center is our Butterfly Pavilion, a native walkthrough butterfly habitat.
In this immersive exhibit, free-flying native butterflies will offer guests an opportunity to view native butterflies in all stages of metamorphosis. Five different species will be observed including Monarchs, Gulf Fritillaries, Painted Ladies, and Black Swallowtail. Guests will be surrounded by butterflies engaging in their natural behaviors including feeding on flower nectar and basking in the sunlight. As the average lifespan of a butterfly is two to three weeks, FOTZ will purchase approximately 150 butterfly pupae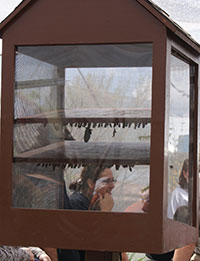 (chrysalises) every other week from butterfly farms. Three chrysalis rearing chambers will be located within the butterfly experience where guests can watch the various butterflies hatch.
Staff "Flight Attendants" will be available to educate the public on butterflies and their plant partnerships. The butterfly experience will feature a number of tropical and annual plants that the butterflies can gather nectar from including Lantana, Salvia, Tropical Hibiscus, Milkweed, and Fennel. To date, the exhibit has been made possible thanks to the generosity of Friends of the Topeka Zoo, KBS Constructors Foundation, Schwerdt Design Group, Certus, Westar Energy Green Team, PKMR, Ben Schreiner Construction Company, Lowers Inc. Plumbing Heating and Air, Davin Electric, Inc, Arnold's Greenhouse, Sowards Glass, Kansas Sand and Concrete, Inc., Skinner Garden Store, ASAP Locating, and Steve and Becky Tipton, Master Beekeepers NEKBA.
"It is great community partnerships and such a strong membership base that makes summer attractions like this possible. Unlike the traveling penguin and alligator exhibit, the Lorikeet Aviary and Butterfly Experience are permanent attractions to the zoo," stated Kate Larison, Executive Director of Friends of the Topeka Zoo. "FOTZ is happy to be a part of this experience."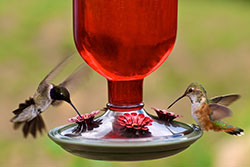 Additional features of Pollinator Palooza include 10 different pollinator gardens around the zoo, which serve as monarch way stations, the lorikeet feeding aviary, and two honeybee hives all of which have educational components attached to them.
According to Zoo Director Brendan Wiley, pollinators are critical to our very existence. "Almost 90 percent of the worlds plants rely on pollinators for fertilization and reproduction, including about 75 percent of the food that we eat – apples, tomatoes, raspberries, peppers, chocolate, coffee, and almonds are just a few. Sadly, pollinators are in serious trouble. Honeybees and native bee populations are in serious decline, and species like Monarch Butterflies are at historical lows due to declining milkweeds and nectar sources from development and the widespread use of herbicides in croplands, pastures, and roadsides."
Pollinator Palooza is part of the zoo's ongoing conservation efforts to help save Monarch Butterflies. Dennis Dinwiddie, the zoo's Curator of Education and Conservation, leads the plan for the Kansas Association of Zoos (KAZOO) Conservation Committee in Monarch conservation. Together, zoos across the state of Kansas are utilizing their resources to provide more Monarch habitat and raise public awareness.
Guests who currently visit the zoo can explore the butterfly gardens as well as the bee hives. The Lorikeet Aviary and all of Adventure Trail will re-open May 7th with $1 feedings available to the guests. The butterfly house will be open June-September. More information regarding the zoo's monarch conservation projects can be found on our website.