In 2016, the zoo received two female elephants, one Asian and one African, who joined the Topeka Zoo's current elephants Tembo and Sunda.
Cora, then a 58-year-old Asian Elephant and Shannon, then a 34-year-old African Elephant, arrived at the Topeka Zoo Aug. 24, from Florida.  For 33 years, Cora and Shannon, along with their owners, have traveled across the Eastern half of the United States presenting an elephant educational program called Elephant Encounters.  After one of the owners passed away in February, a decision was made to retire Cora and Shannon with the hope that they could remain together.  According to Zoo Director Brendan Wiley, the Topeka Zoo was one of three zoos in the nation that house both Asian and African elephants together.  "We are delighted to have these two elephants join our herd and live out their remaining years in comfort and peace," Wiley said.
About Our Elephants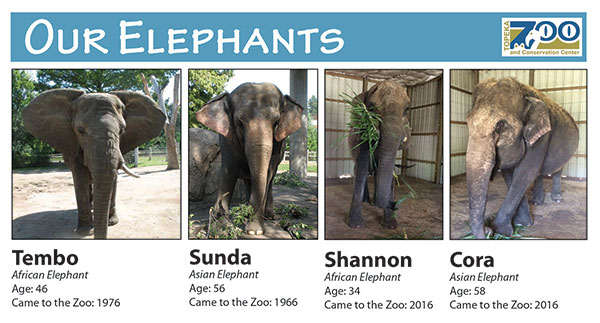 Tembo, an African elephant born in 1970 is very curious.  She loves to explore in her yard and it is not uncommon to find her rearranging her yard daily, moving logs and tires about.  She accepts people easily and you can become her best buddy with a baby carrot.  Tembo LOVES to paint.  She will paint with both her trunk as well as a paint brush.  It is not uncommon for her to paint on herself as well.  She loves water, dirt, and mud.  She will roll around in the mud coating herself from head to toe.  She also enjoys sand bathing.  Tembo LOVES food!  There are not many foods on the menu that she won't try.
Sunda, was born in 1960 and has a delightful personality.  Sunda loves playing with Tembo.  They have been together for 40 years and are like sisters.   She enjoys music and painting.   Unlike Tembo, Sunda could work on the same painting for hours.  She will paint with the very tip of her trunk and creates masterpieces that are beautiful but rare.  Sunda loves water and enjoys bath time.  She will splash herself and those around her and blow bubbles in the water.  Like any girl, Sunda enjoys a variety of perfumes especially citrus scents.  On occasion, you can find Sunda squeezing or stepping on citrus fruit then spraying the juice on herself.
Shannon, an African elephant born in 1982, is disciplined and loves to be the center of attention.  As with many adolescents, when she doesn't get her way, she will sometimes sulk, dragging her trunk on the ground or sticking out her tongue.  Her favorite toy is her blue barrel of which she carries with her wherever she goes.  She enjoys treats, her favorite of which is watermelon.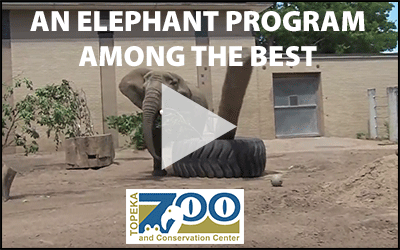 When Shannon was 18 months old, she was introduced to Cora.  Cora, who was born in 1958, became an instant "mother" to Shannon.  Thirty years later the two are inseparable.  Cora is very passive.  She will wait patiently for her turn.  She loves attention and is very protective of Shannon.  Cora is a very vocal elephant and can often be heard rumbling and trumpeting with delight.
An Elephant Program Among the Best
To see what makes our elephant program among the best and to view a day in the life of our elephants, click on the video link at the right.
For complete details on our zoo's elephant program, visit www.trunktruths.com.
Would you like to help support our elephant program?
If you would like to help support our elephant program through an online contribution, just click on the button below to complete your donation.
Thanks for your consideration and support!