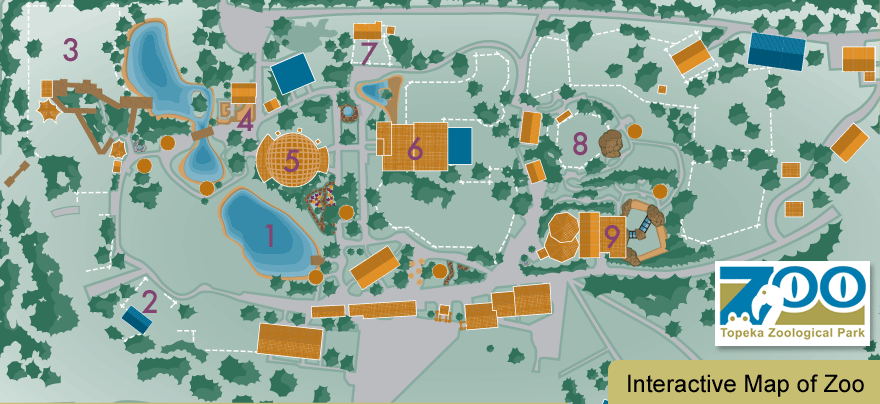 1
|

Waterbird Lagoon

The Waterbird exhibit, which includes three ponds, houses a variety of native birds that fly in as well as our Trumpeter Swans.
---
2
|

Kansas Carnivores

This exhibit houses mountain lions and North American river otters amidst native Kansas grasses.
---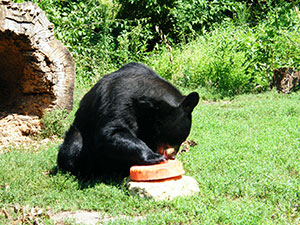 3

|

Black Bear Woods

Black Bear Woods was established in 1996 through the generosity of Hill's Pet Nutrition. It houses black bears as well as some other interesting North American animals.
---
4
| Farm Yard
The Security Benefit Farm Yard opened in 1992 as a place for kids to interact with animals. The Farm Yard features domestic animals that enjoy being petted and fed.
---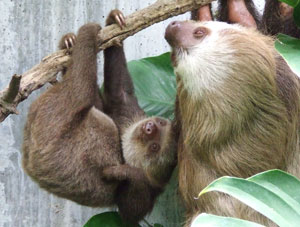 5

|

Tropical Rainforest

The Tropical Rainforest was built in 1974 as the first exhibit of its kind in the nation! It serves as home to a variety of plants and animals ranging from birds, reptiles, amphibians and mammals. Many of the animals in the Rainforest – such as sloths, birds,  and bats- roam freely.
---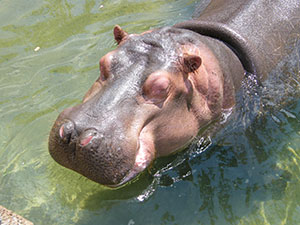 6

|

Animals & Man

The Animals & Man building, which opened in 1966, originally housed animals acquired by the community through the Operation Noah's Ark campaign. Today, it is home to the largest animals in the zoo (and a few of the smaller ones). In recent years, the Zoo added on a new barn, an outdoor pool and a shade structure for the elephants, and a 28,000 gallon outdoor water pool for the hippo.
---
 7 | Jungle Cats
Jungle Cats provides an up close and personal experience with the Zoo's Sumatran Tigers. Sumatran Tigers in the wild are highly endangered – with numbers falling below 400 animals – due to poaching and habitat destruction.
---
8
|

Lions Pride

(Currently under renovation)
---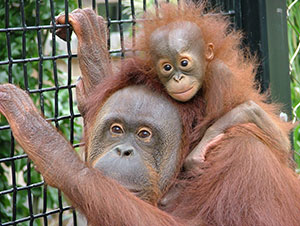 9

|

Disappearing Apes

Disappearing Apes opened in two phases between 1981 and 1985. The first phase, the Orangutan exhibit, provides a unique experience for visitors to view animals at tree-top level. In 1985, the second exhibit opened, which gives visitors an opportunity of a walk-through exhibit tunnel. In 2003, an outdoor habitat was added for the Zoo's Bornean orangutans to have the option to be outside when weather permits. The inside of the Discovering Apes building now exhibits the Capital City Bank Tree Top Conservation Center which describes the plight of apes in the wild.
---
Zoo Horticulture
The Topeka Zoo provides a beautifully-landscaped backdrop for the animals, through its own horticulturist. Exhibits and green spaces are planted with various plants, grasses and flora – all selected to mirror the animals' natural habitats, pay tribute to Kansas native grasslands and enhance your Zoo experience. Flowering plants fill the Zoo during the growing season and springtime brings our well-known tulip beds.